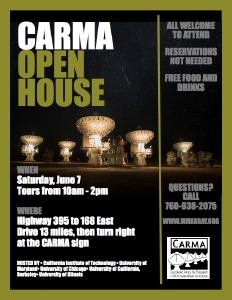 (Press Release)
The community is invited to attend an open house on Saturday, June 7th at CARMA, the Northern Hemisphere's largest millimeter-wave radio observatory.  This free event is a rare opportunity to view state-of-the-art telescopes and control facilities, as well as to learn about recent scientific results.  Tours of the site will be led by CARMA scientists, who will also be available to answer questions and explain their research.
The event is suitable for people of all ages.  Children are welcome.  Special accommodations will be made for individuals who are unable to walk short distances.  Reservations for the Open House are not needed.  Refreshments will be served free of charge. Tours are from 10am to 2pm.
CARMA is located off Highway 168 east, toward Westgard Pass.  For more information contact Dr. Mark Hodges at 760–938-2075 x109.