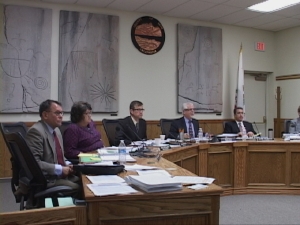 It's no secret that Inyo County has a nearly $2 million budget shortfall. The unknown remains how they will make up that lack of money. When the Supervisors meet this week, County Administrator Kevin Carunchio will talk about this issue.
Agenda item number 20, immediately after the consent agenda, says the Administrator will talk about the status of the fiscal year 2014-15 CAO recommended budget, provide options for the Board's consideration, and seek direction from the Board for completing the CAO recommended budget.
There are no details provided in the agenda packet for this item. That item does say, "Because we are in the midst of budget preparation, fiscal landscape and associated items are changing daily and no presentation materials are included with this Agenda Request Form." The item goes on to say that "The presentation materials will consist of the most up to date budget picture and numbers as of Monday, August 11th."
Department heads participated in an exercise called Service Redesign to find ways to cut expenses and often services. At last word, that effort had reportedly saved close to $600,000. Discussions have taken place that would involve cuts to Senior Programs, Library and Museum Services and other public services. Landfill services have already been cut and fees increased.
It is expected that more cuts and possibly layoffs will be proposed to balance the shaky budget.