By Deb Murphy
The long, strange journey for legal commercial cannabis will enter a new stage at today's Inyo County Supervisors' meeting. The Board will hold a public hearing on licensing two retail operations in Zone 1, the Bishop area, but not the city itself.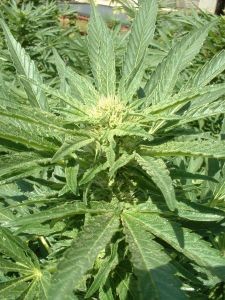 The Board restricted the number of retail establishments in Zone 1 to two. Four applications came in but only two hit or exceeded the grading system. Applicants were required to score at least 80-percent on a series of criteria. PALS Associates, Inc. scored 88; Simply Green came in at 81-percent. The other two were close at 76- and 75-percent.
Inyo/Mono Agriculture Commissioner Nate Reade will also be recommending an annual licensing fee of $8,850. According to the Board's agenda packet, that was the magic number that will "ensure full cost recovery" of regulating commercial cannabis businesses.
Assuming the Board will approve the licenses, the two retail operations still have a couple of hoops to jump through: a state license and the Conditional Use Permit process.
This is just the tip of the cannabis iceberg. According to meeting documents, Inyo received 35 license applications with 30 passing muster, leaving another 26 to come before the Board in the coming weeks.
The Board will also hold a public hearing on the first reading of an ordinance to govern industrial hemp operations. State law allows for unlicensed cultivation of hemp with THC levels higher than 0.3-percent as long as the cultivator is an "established agricultural research institution."
The agenda packet identifies a couple of issues with the state. First, apparently there's no real definition for an "established agricultural research institution," and second, the possibility of cross pollination between industrial hemp and cannabis would force the destruction of the hemp plants or reduce the value of the cannabis.
Reade's regulatory solution would be to require industrial hemp cultivation as an indoor-only operation with no possibility of pollen escape. Industrial hemp operations would also have to comply with restrictions imposed on cannabis cultivation.