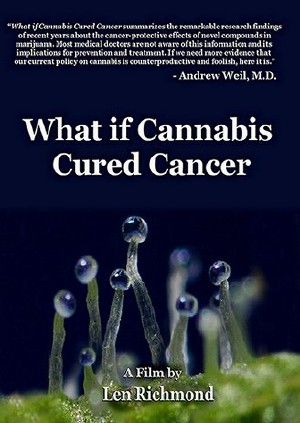 "What if Cannabis Cured Cancer?" Provocative idea and also the name of a film by writer-producer Len Richmond. Steve Klassen of Mammoth Lakes has arranged for a free viewing of this film on Saturday. It's controversial and timely as Mammoth gets ready for its first medical marijuana dispensaries and California gets ready for a vote to legalize pot.
Mr. Richmond describes himself as a comedy writer for the BBC and a pot smoker. He attributes his creativity to marijuana, and on a family note Richmond revealed that his mother was diagnosed with breast cancer and chose non-traditional treatments. He said she shrunk her tumor with herbs and diet. "It opened my mind," said Richmond. He says research into cannabis was shut down by the medical community even though research showed that cannabis "helps the immune system and kills cancer cells."
Fantasies of a pot smoker? Richmond points to the fact that his film presents credible scientists and physicians who
reveal the findings about cannabis. A high profile physician has also joined the idea that marijuana is beneficial to health. Dr. Andrew Weil, well-known alternative medicine doctor, wrote a column recently in the Huffington Post. Dr. Weil wrote that as long ago as 1975, researchers reported that cannabinoids, a chemical constituent of Cannabis, inhibited the growth of certain cancer cells. Weil believes more research should take place. He also personally recommends Len Richmond's film.
Dr. Weil wrote, "If you want to learn more about this subject, I recommend an excellent documentary film, "What if Cannabis Cured Cancer," by Len Richmond, which summarizes the remarkable research findings of recent years." Weil says Richmond's film presents "compelling evidence that our current policy on Cannabis is counterproductive."
The free screening of this film happens Saturday at 8pm at the Mammoth Lakes Art Center across from the police department.