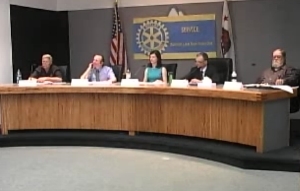 At an earlier Rotary Candidates Forum, Mono Supervisor Candidates were asked what options they see to reduce the $4.7 million County deficit and the County's ongoing structural deficit.
District 5 Candidate Kirk Stapp said that the County and CEO have worked "really hard to reduce the deficit." He said in the short term, it will be resolved. The real issue, said Stapp are the State mandates, air quality regulations and $60 million over ten years in expenses coming up. He said the first step was the CEO reducing staff and re-structuring. The next step, he said, is where collaboration can be worked out. Solutions, he said, will have to come over time. It may take a hit on the staff and in the future there may need to be assessment districts or increased taxes.
District 5 Candidate Greg Eckert said there has been a structural deficit. The County, he said, has spent more money than it is bringing in. Four to seven years ago, he said, there was $7 million in reserve. He said officials have used the reserves. He said County staff was cut from 280 down to 250. "The fat is gone," said Eckert. He said there needs to be "a lot more collaboration. You can't keep cutting people."
District 1 Candidate Supervisor Larry Johnston said in 2008 there was $5.7 million in the reserve fund. A lot was used, he said, to subsidize Solid Waste. Said Johnston, "One reason I ran was it seemed like no one was paying attention." He said the Air Resources Board has relaxed some expensive requirements and there is a better vehicle replacement plan. There will be a balanced budget, he said. As for the structural deficit, Johnston said the Board is reviewing it on a quarterly basis. He said there is a hard hiring freeze on now, potential for furloughs and attrition plus Service Redesign. Maybe, he said, lay offs.
District 1 Candidate Bill Sauser said in 2007 there were 344 Full Time Equivalent positions filled in the County. Now, he said, there are 277 with 290 budgeted. Sauser said there needs to be 250. He said the proper level of service is the level that is sustainable. Then, come hard decisions. Sauser said there could be votes community by community on levels of service with the need to cut service to match income. Said Sauser, "This includes the Sheriff and everything else or the people will have to be taxed at a higher rate."
District 5 Candidate Stacy Corless said of the County financial situation, there are plans that the CEO and Finance Director have put before us. She said if elected, she would inherit the conditions with a budget passed in June. Corless pointed to attrition of workers, innovative ideas, possibly furloughs or lay offs to get down to a number that is in balance. She called for leadership and a change in the way the County does business. Said Corless, "We need a solid strategic plan to set higher goals down through employee work plans."