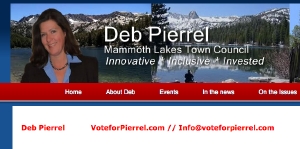 The last election on the Mammoth Town Council came at a time when Town Government looked bleak and burdensome. Two candidates ran for two spots. No one else wanted to step forward in a painful situation. This time around, three seats are up for election and things look better. One candidate has already declared.
Nomination papers become available next Monday, February 10th, but Deb Pierrel of Mammoth Lakes has already announced that she will run. In an email with her announcement, Pierrel said, "My decision comes from the viewpoint that it has been a hard past few years on our Mammoth government, employees, community and financial status." Pierrel says she thinks now is a "pivotal juncture" and a time to work together for a strong foundation. Pierrel's candidate statement is posted on our website.
The seats currently held by Mayor Rick Wood and Councilmen John Eastman and Matthew Leman are up for election. The top three vote-getters will fill those seats for four year terms. Town Clerk Jamie Gray recently issued a notice about the June 3rd election. She pointed out that Councilmembers are paid $300 per month and that candidates must be registered voters and live within the Town.
Nomination papers will be available starting February 10th from the Town Clerk. The deadline for filing those papers is 5pm, March 7th. Those interested in running for the Town Council are encouraged to contact Clerk Gray at 760-934-8989, extension 267. You can also go to the Clerk's Office at the Town Offices in the Minaret Village Shopping Center. The offices are open from 8am to noon and 1pm to 5pm, Monday through Thursday. Fridays, by appointment only.
CANDIDATE STATEMENT:
Friends, Constituents, Fellow Mammoth Lakes Community Members, I announce my 2014 candidacy for election to the Mammoth Lakes Town Council. I am a long-time, permanent resident of Mammoth Lakes, and proud to live here.
My activism, volunteerism, service and involvement in community and our town has allowed me to build a unique perspective and understanding of our government operations and enabled me to build strong connections and partnerships within our communi- ty. I have been a past Chamber of Commerce Board Member, Airport Commissioner, budget process consultant and more. I also consistently donate both time and money to local service organizations, charities and programs, such as Altrusa International (focused on literacy in our Eastern Sierra), Friends of the Library and Disabled Sports of the Eastern Sierra.
In addition to being a community activist, I am a businesswoman and entrepreneur, operating two resort driven business' from Mammoth Lakes. I have been actively involved and relevant within the hospitality and service industry my entire life; I feel I bring a unique perspective and background that will complement Town Council interactions and our community. My professional expe- rience includes all aspects of the resort and hospitality industry, including past owner of the Mammoth Creek Inn, operating a successful consulting firm: Intellectual Equity Resort Consulting; as well as owning Cle Hospitality, LLC.
It was through I.E. Resort Consulting that I volunteered my time with the help of invested community members and sought out expertise to enable our budget process to reform, saving The Town of Mammoth Lakes money while bringing in relevant options, toolsandinterfacestocreatedesktoprealtimebudgetnumbersforstaffandTownCouncil. Infact,onethereasonsIamcom- pelled to run for town council, is that the system was never implemented after it was created and approved by town council, as that had to be done through the leadership of our town manager through staff, and with a philosophical understanding and change. The town manager is a choice which is being discussed now. While the next Town Manager will most likely be chosen prior to the election, I think it is a critical choice – almost as critical as the way we manage, support, direct and guide this leader.
It is my belief that town council is a team who need to work together for the best of the community, and while opinions and view- pointsdiffer,theendresultmustbeaunitedfrontandgoaltowardthevotedonpath. Weshouldbediplomatsofrelationships and forge bonds in all areas, including public/private partnerships, Mono County government and officials, our town employees, and more.
As a local businesswoman, I want to bring common sense, straight talk, questioning the status quo and relevancy to our town council. I understand what it means to struggle through 3 years of drought as a small start-up business. I believe it is the calm after the storm. As a town, we have been through a major lawsuit, near bankruptcy, the loss and cutting of staff and positions, and more than enough upheaval. I believe now is the time to rebuild. I want to be part of the foundation to a future which will be pertinent, withstanding time, weather, and tourism trends. We need to think smart for the now with a mindful eye on the fu- ture and processes for our growth and sustainability. I believe we can be innovative without always trying to re-create the wheel or tossing good money at costly solutions.
In addition to my experience and sense of business and community, I have a huge appreciation for our Mammoth Lakes, its natu- ral beauty and quality of life. Caring for our environment and making decisions for the whole of our community is vital to my per- spective and belief system.
I respectfully seek your support to elect me to our Mammoth Lakes Town Council in 2014. I would be honored to work for and with you in the betterment of Mammoth Lakes.
Deb Pierrel