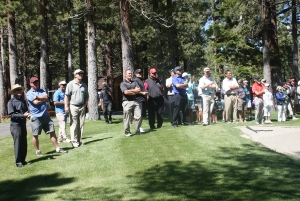 11th Annual Cancer Outreach Golf Tournament a Success!
The Healthcare Trust of Mammoth Lakes hosted its 11th annual Cancer outreach Golf Tournament on Friday, June 27th at Sierra Star Golf Course.  The sunny sold-out event had a full field of participants with 144 golfers in attendance.
The teams competed in a best ball scramble format with the Cancer Outreach Cup going to a team of three comprised of Andrea O'Connel, Ryan Eggleston and Emmett Estren.  The pressure was on as the top three teams competed for first place on the 18th hole while the rest of the participants watched.  
Cancer survivor Brian Venneman who has played an integral role in the tournament since he helped establish the event 11 years ago held the post tournament raffle, with many great prizes to give away.  Overall numbers have yet to be complied, but organizer, Bubby Greene was pleased with the outcome.
"This type of event really shows how small communities come together to show support for such a great cause.  I would like extend my sincere thanks to all of the sponsors, players, volunteers, and Sierra Star Golf Course for making this tournament a success again this year," says Greene.  "It takes a team effort to put on something like this, and that's exactly what happened."
All of the proceeds will go to Mammoth Hospital's Cancer Outreach Fund;  providing  support, resources and financial assistance to cancer patients living in Mono & Inyo Counties.  For more information on how to be involved in next year's tournament or for ways to donate contact Bubby Greene, at (760) 924-4128 or go to www.mammothhospital.com.