A Bishop man is in the hearts and prayers of many eastside residents today after an accident on the canal left the man trapped in his car underwater.
According to the report from CHP Officers, 32-year-old Bishop resident Mark Strout lost control of his 1996 Ford Explorer and drove into the canal. CHP officers dont know why the driver lost control, but the vehicle rolled into the water and came to rest with the drivers side down.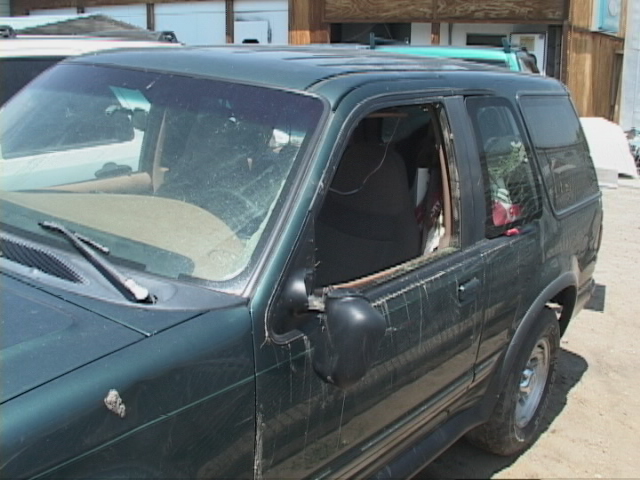 Bishop Police Chief Kathleen Sheehan explained that Bishop Police Sergeant Glen McClinton was first to arrive on scene where he found the vehicle almost totally submerged. A boy had already escaped the vehicle and was helping three sisters out of the vehicle and told Sgt. McClinton that his dad was still trapped inside the vehicle.
Inyo Sheriff Sergeant Andy Marsh, INET investigator Paul Dorame, Deputy Ted Bachman and District Attorney investigator Louis Roberts all arrived on scene seconds after police officers Glenn McClinton and Brian Rossy.
The two Bishop police officers and Sergeant Marsh went into the water. McClinton worked on getting the driver out, and Marsh broke out the back window to make sure no one else was trapped in the vehicle.
Chief Sheehan says that McClinton took of his duty belt and entered the water. He was able to feel the man was indeed trapped, but could not release the seatbelt. When McClinton surfaced for air, Sheehan says that officer Brian Rossy had arrived and gave McClinton a knife to try and cut the belt, but that didnt work either.
For the third effort, Sheehan says that Rossy held McClintons legs to push the sergeant deeper into the water, where McClinton was able to reach the safety belt and free the victim. Rossy, Dorame and Roberts pulled him to shore and Bachman began working on him
Sheehan says that the man might have been under water for five minutes. Officers started CPR, joined by Bishop Fire Chief Ray Seguine, a firefighter, and the Symons Ambulance crew. The victim eventually coughed, spit up water, and took a couple of spontaneous breaths, Sheehan says. He was taken to Northern Inyo Hospital and later flown to Renown Medical Center in Reno. At last word, Strout remained in critical condition.