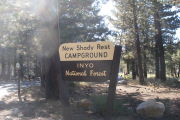 With the recent government shutdown and re-opening, some citizens locally have wondered why campgrounds managed by concessionaires had to close. We asked Mammoth District Ranger Jon Regelbrugge, who said orders came from the national level about government-owned facilities.
He said that campgrounds which are under permit to concessionaires are government-owned. The permit, said Regelbrugge, allows a concessionaire to operate the facilities "subject to the terms and conditions in the permit." Forest Service staff exercises "oversight and ensures compliance with permit terms and conditions," he said.
Forest Service employees do operate the water and waste water systems at campgrounds and conduct certain types of repairs. Regelbrugge said many of the water systems service other facilities in addition to campgrounds. The decision to shut down Inyo National Forest campgrounds was not made locally. Officials here received direction from the national office of the Forest Service to suspend permits for operating federally-owned facilities. The same policy was activated in national parks.
For those residents questioning the status of Forest Service campgrounds, some have re-opened following the government shutdown but have no water or trash service. One concessionaire, California Land Management or CLM, holds a number of permits for campgrounds on the Mammoth and Mono Lake Ranger Districts. Since it was close to the end of the season, CLM decided not to re-open their campsites after the government got back into business.
CLM campgrounds include Shady Rest, Sherwin Creek, Mammoth Lakes Basin, Reds Meadow areas, June Lake Loop area and Lee Vining Canyon. A number of campgrounds on the White Mountain and Mount Whitney Ranger Districts have re-opened with no water or trash service. For the Eastern Sierra, the government shutdown mostly eliminated campground use for the month of October.