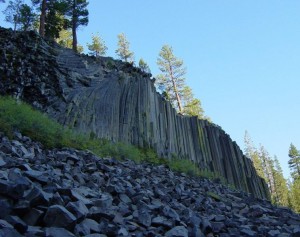 Devils Postpile National Monument News Release
August 29th, 2012 Contact: Jonathan Rees (760) 934-2289
UPCOMING WALKS AND CAMPFIRE PROGRAMS AT DEVILS POSTPILE
Ranger-led walk to Devils Postpile
This 1 hour, 1 mile walk includes topics such as wildlife, resource conservation, and the geology of the Devils Postpile formation. It begins every day at 11:00am at the Devils Postpile Ranger Station (shuttle stop #6).
Labor Day Weekend Evening Campfire Programs
Join a ranger Friday, Saturday and Sunday night at 8:30pm for a 45 minute program about one of the many things that makes Devils Postpile such an amazing place. Meet at the Devils Postpile amphitheater next to the Ranger Station.
Upcoming Evening Programs:
Friday, August 31th
Saturday, September 1st
Singin' and a Pickin' Round the Campfire!
Sunday, September 2nd
On Top of the World: Legendary Figures of Mountaineering in the Sierra
Come learn about the daring successes, rescues, and the lasting legacy of the Sierra Nevada
Mountaineers.
Come sit by a fire as Rangers tell stories and sing songs full of adventure and humor. Be ready to
sing and enjoy the music!
A Song of Ice and Fire
Join science and resource management interns Emilie, Katie, and Shannon to learn about the
dynamic and adventuresome year-round scientific projects going on in the Devils Postpile
National Monument.