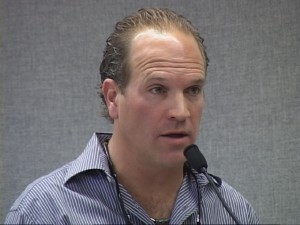 Another medical marijuana cooperative permit holder says he hopes to have his doors open before Thanksgiving.
Robert Calvert of Mammoth, along with Steve Klassen, gained approval by the Mammoth Planning Commission last week for their medical marijuana use permit applications. Klassen said he will open as soon as he can. Calvert says he is optimistic he will open Mammoth Lakes Wellness in the Mammoth Luxury Outlet Mall by Thanksgiving.
Calvert said that he has worked on the lay-out for an open front door, with no buzzer for entrance, as supported by the Planning Commission. He will install security and plan for an opening. "I want to get going," said Calvert. He said many have expressed support for his project. "I didn't do this to be in the spotlight," said Calvert. "I believe in it, and I hope this opens peoples' eyes to the medical side of marijuana."
This kind of venture is all in the Calvert family. Robert's brother, Scott Calvert says he works as a liaison between Dr. Darryl Harris and patients to facilitate a physician's consultation and recommendation for medical marijuana. Calvert's operation, Medicard 420, also takes place in the Mammoth Luxury Outlet Mall.
Scott Calvert says he's curious if the two medical marijuana co-ops will lead people to realize it's okay to get a doctor's recommendation and use medical marijuana. Said Calveret, "I believe in the medical capabilities."