Press releases
Bishop – As the temperature begins to rise, the deer population is moving to their summer range. The California Department of Transportation (Caltrans) would like to remind motorists to remain alert for migrating deer on the highways in the Eastern Sierra.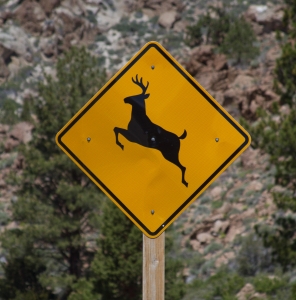 The Defenders of Wildlife, a national, nonprofit organization dedicated to protecting native animals and plants, report that more than 200 people are killed in collisions with wildlife each year with an estimated 1.5 million animals hit annually in the United States.
To reduce deer/vehicle accidents Caltrans identifies known deer migration crossings on State highways with warning signs. New construction and rehabilitation projects include flattening of the slopes next to the roadway and the removal of bitter brush seed from the re-vegetation mix. Biologists from Caltrans and Department of Fish & Wildlife continue to study the habits of the deer population working to develop new technology that will improve driver safety as well as deer safety.
Ways to Prevent a Collision with a Deer:
Watch for the rest of the gang. Deer are pack animals, and rarely travel alone. If a deer crosses in front of you, chances are there are more nearby. Slow down and keep an eye out for more deer darting across the road.

Timing is everything. Deer are most active at dusk and dawn: periods when your vision is most compromised. Slow down and stay alert, especially after dark.
Wear your seatbelt. It may not prevent a collision, but if the inevitable happens a seatbelt can reduce injuries.

Take a moment to reflect. First, look for the road signs. The yellow diamonds with the deer on it are placed in high-traffic areas for deer. You may also spot a deer because their eyes will brightly reflect a car's headlights, making them easier to spot.

Stay Center. On a multi-lane road, the center lane is your safest bet for avoiding a deer collision, as long as your local traffic laws permit it. This gives deer plenty of space; and in case your vehicle does startle them, it gives you more time to react if one darts onto the road.

Stay the course. If you see a deer, brake firmly and calmly, and stay in your lane. Swerving could make you lose control of your vehicle and turn a bad situation much worse. Not to mention, deer are unpredictable, and you could swerve directly into their changed path.

Honk! Some experts recommend that one long blast of the horn will scare deer out of the road. Do not rely on hood whistles or other devices designed to scare off deer — studies have shown them to be largely ineffective at minimizing accidents.
What to do if you hit a deer.
Pull to the side of the road as soon as it is safe to do so. 

Turn on your hazard lights and remain in the vehicle until you are sure it is safe.

Call emergency services if injuries are involved or the local police for property damage.
For more deer migration information visit the Caltrans District 9 webpage: http://www.dot.ca.gov/d9/deer.html
JOB FAIR
Bishop – The California Department of Transportation (Caltrans) will hold a hiring fair on Thursday, May 18th from 4:00 pm to 8:00 pm at the Bishop District 9 Office located at 500 S. Main Street, Bishop, CA.
Those interested in obtaining information about Caltrans employment opportunities should attend. Caltrans personnel will be available to discuss current local vacancies, benefits, Caltrans career ladders and the hiring process. Computers will be available for attendees to receive hands-on assistance in creating a CalCareer account, testing and application submittal.
The State of California is an equal employment opportunity employer to all, regardless of age, ancestry, color, disability (mental and physical), exercising the right to family care and medical leave, gender, gender expression, gender identity, genetic information, marital status, medical condition, military or veteran status, national origin, political affiliation, race, religious creed, sex (including pregnancy, childbirth, breastfeeding and related medical conditions), and sexual orientation.
For more information contact Jody Eddings, Caltrans District 9 Personnel Liaision, at 760-872-0791 or Debborah Morales, Caltrans District 9 Equal Employment Opportunity Officer, at 760-872-0752….
SEASONAL PASS OPENING STATUS
Bishop – The California Department of Transportation (Caltrans) District 9 continues to work on clearing snow, removing rocks, and repairing its eight highways with seasonal closures.  As work progresses, pedestrians, bicyclists, skiers, etc. are advised to stay out of these areas. Safety is our number one priority, for the public as well as Caltrans' workers.
This is the District 9 Seasonal Pass Status as of Wednesday, May 10, 2017:
State Route 89 – Monitor Pass
Highway was opened for the season on May 8, 2017, at 1:00 a.m. with no restrictions at this time.
State Route 108 – Sonora Pass
Crews continue to remove snow and are approximately 2 miles from the summit on the east side and about 5 miles from the summit on the west side. The snowpack is estimated to be 12 to 15 feet on the highway.  There is no estimated date for reopening the highway at this time.
State Route 120 West – Tioga Pass (from the Junction of US 395 to the Yosemite National Park Gate)
Crews have removed snow passed Warren Creek.  The snowpack is estimated to be between 8 to 15 feet on the highway, with up to 50 foot snowdrifts in some locations. The avalanche, debris flows, and rock fall danger is high and there is no estimated date for reopening the highway at this time.
State Route 270 – Bodie Road
All snow has been removed but the highway continues to remain closed at the request of Bodie State Park personnel.
State Route 203 – From the Mammoth Mountain Parking Lot to Minaret Vista
This section of highway is under permit of Mammoth Mountain Ski area for the winter ski season.  There is no estimated date for reopening the highway at this time.
State Route 120 East – Mono Mills   Highway opened for the season on April 14, 2017.  Travelers should be aware of wild horses in the area.
State Route 158 – June Lake Loop   Highway opened for the season on April 14, 2017.
State Route 168 West – Bishop Creek   Highway reopened for the season on April 24, 2017.
All information is subject to change due to weather conditions.
For the latest highway information please visit the Caltrans QuickMap site atquickmap.dot.ca.gov or call the Road Condition Hotline at 1-800-427-ROAD (7623).