A word of caution from Caltrans – slow down and watch for deer.  Last month, migrating deer crossed paths with several vehicles.  Caltrans has just issued tips for avoiding animals on the road.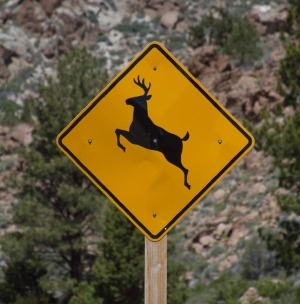 They say to stay alert, awake and sober.  Watch for deer crossing and speed limit signs.  Scan the road for deer and slow down if you see one.  Caltrans said the deer often travel in groups.  Use high beams at night in the absence of oncoming traffic.
Something to remember – most car-deer incidents happen during early morning hours and early evening hours especially this time of year as deer migrate to their summer feeding areas.  Caltrans recommends that you not rely on deer whistles or other vehicle-mounted noisemaking devices.
Caltrans says if you are about to hit a deer, slow down, grasp the steering wheel firmly with both hands.  Brake hard without locking the wheels and skidding.  Steer straight and stay in your lane.
If you do hit a deer, Caltrans says stop the car safely and make sure you and your passengers are not hurt.  If possible, move the car to the shoulder and turn on the hazard lights.  Do not approach the deer.  Report the accident to the police.  Do not try to kill an injured deer.  Caltrans has erected deer migration crossing signs in some places.  Caltrans officials say they mow vegetation next to the roadway and take measures to help motorists see animals.