Caltrans press release
Updated Information as of Wednesday, April 25, 2018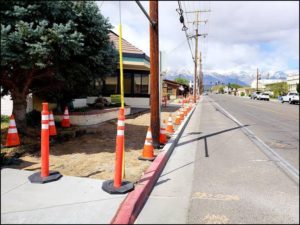 Beginning on the evening of April 25th, construction work will start on the east side of Main Street (US Hwy 395) south of Jay Street.
Construction work will continue along the south side of Line Street.
Construction work will begin on the north side of Line Street starting at the junction of US Hwy 395 and work to the west.
Construction work is continuing during the following hours and days:.

Lane Closures: 

7:00 pm to 6:00 am

the next morning.
Days:

Sunday

evening through

Friday

morning. No Construction

on Friday

or

Saturday

nights.

Contractors are removing and replacing concrete sidewalks bringing them to current ADA standard.
The City of Bishop and various utility companies are also conducting construction work along Main Street during daylight hours.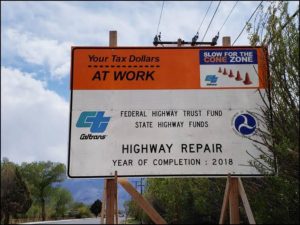 Traffic will be diverted around construction areas.  For the safety of workers and other motorists, please Be Work Zone Alert and Slow for the Cone Zone.
For more information about this project, visit:  http://www.dot.ca.gov/d9/projects/bishop_ada/index.html