More fire in the news. Tuesday afternoon a pick-up truck burst into flames along side Highway 395 north of the Bishop Gun Club. Bishop Volunteer firefighters responded rapidly. A huge column of black smoke and rolling flames shot out over the highway.
Bishop Fire Chief Ray Seguine said that the burning truck was a Caltrans vehicle southbound on Highway 395. Chief Seguine said the driver smelled something burning and called the dispatcher who called 911.
The driver pulled over, got out and saw fire from under the truck. He quickly backed away and was not hurt. Chief Seguine said that the fire was in the engine compartment and his ruling on it was a fuel line break.
Bishop Volunteers got the fire under control. Traffic was interrupted for a brief time.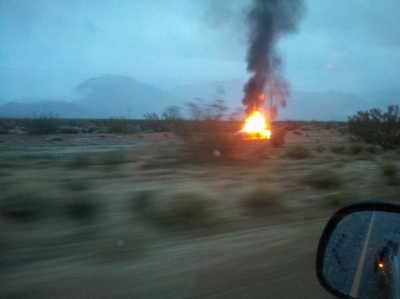 On Sunday, motorists saw a flaming vehicle off the highway five miles south of Pearsonville. The CHP said that the only information they had was that the vehicle was a gray Porsche Bauxter Spyder. Officers said no one was hurt. The reporting party was a woman who said the expensive Porsche belonged to her boyfriend. Officers said the car was totally burned.