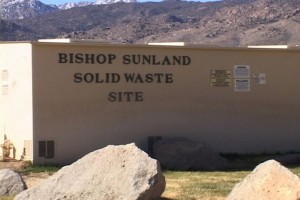 The California Department of Transportation (Caltrans) is hosting a free dump day on Saturday, January 29th from 7:30 a.m. – 3:30 p.m. at the Bishop-Sunland Landfill in Inyo County. The free dump day is part of the Clean California program, a statewide initiative to remove litter, create jobs, and beautify California.
Trash loads should be sorted and properly tarped down before transporting to the dump. Per state law, transport only 9 waste tires at a time. The free dump day is open to residential waste. Commercial waste will not be free.
Acceptable residential waste includes:
·      Household waste, yard waste, Christmas trees
·      Glass, wood, metal
·      Appliances, TVs, mattresses, and furniture·
.      Oil, electronics, and recyclables
.      Tires (limit 9 at a time
The following will not be covered by the free dump day:
·      Commerical waste and commercial hazardous waste
·      Tractor/heavy equipment tires
·      Household hazardous waste
.      Pesticides, herbicides, chemicals, sharps, and disinfectants
To learn more about Clean California, visit CleanCA.com.