By Deb Murphy
You'd think folks didn't realize those bright red octagons at the intersection of Wye Road and U.S. Highway 6 meant what they said—"stop".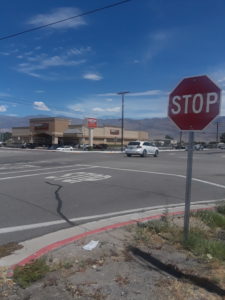 When Grocery Outlet owner Dennis Freundt gave his business report at last month's Bishop City Council meeting, he mentioned the seven car crashes near the store. It's gotten to the point when he hears the harsh sound of metal on metal, he just automatically goes to the store's surveillance camera so the film's available to Bishop Police Department.
According to the PD, of the seven, one was a DUI, one a clumsy turn that took out a motorcycle and one a hit-and-run in the parking lot. The other four were vehicles on Wye Road not realizing there was a stop sign there and if they did, chose to ignore it.
All of the above occurred between January 22 and August 1.
It's hard to imagine a local not realizing Wye traffic stops for Hwy. 6 traffic, but only one of the wrecks was from out of town. The only moderately understandable wreck was an out-of-towner headed east on Wye, not realizing truckers from all points east were barrel south on Hwy. 6.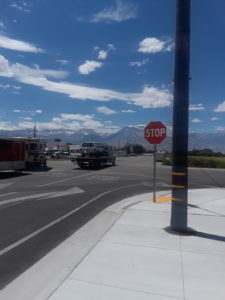 But, CalTrans has a plan for that.
According to Florene Trainer, public information officer for CalTrans, the agency "is working on placing new stop signs with blinking borders to alert traffic on Wye Road that a stop sign is present." Trainer's e-mail goes on: "The traffic department regularly monitors accident rates and when those rates increase above the state average, a safety project is then proposed, designed and constructed."
Inyo County is planning its new Bishop office building in the same general area. Trainer stated CalTrans will monitor traffic patterns once the building is completed and occupied to "see if a long term solution is needed."