As of 3:00 this afternoon, maintenance crews have fully reopened U.S. Highway 395.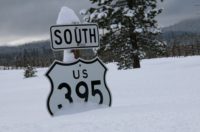 It took almost a full week to clear the highway after last week's snowstorm. Besides lots of snow, there was the added danger of avalanches along U.S. Highway 395. According to
Caltrans District 9 Facebook page
, Caltrans crews working non-stop finally cleared the entire highway all the way to the Nevada border at Topaz Lake.
Thanks to the efforts of the
Caltrans District 9
crews, there are no chain controls at this time in Mono, Inyo, and Eastern Kern counties.
With the combined efforts of the tireless efforts of Caltrans District 9 personnel, the California Highway Patrol, and local sheriffs' agencies in Inyo, Mono, and Kern counties, motorists, and visitors, as well as many long-hauler truck drivers, were kept safe during the massive snow fall, blizzards, whiteouts, high winds, and threats of avalanches.
Caltrans reminds drivers to be prepared during these winter storms with the following items:
Snacks and water
Flashlight
Extra batteries for flashlight
Phone charger
Jumper cables
Kitty litter or sand (for tire traction when stuck)
First aid kit
Small shovel
Extra set of warm clothes/blankets
Extra medication
Full tank of gas
For up-to-date traffic information, please visit QuickMap at http://quickmap.dot.ca.gov/.You can also check Facebook @Caltrans9 and Twitter @Caltrans9 or call the Road Condition Hotline at 1-800-427-ROAD (7623).