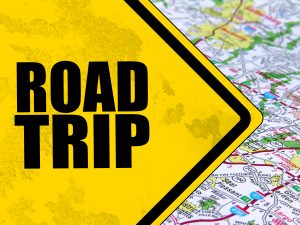 With Covid restrictions being lifted in the state on June 15, Caltrans wants to remind the millions of Americans expected to hit the road this summer to be "Road Ready Before Heading Out."
The enthusiasm to get out, pack the car, and head out for the forests, lakes, and deserts of the Eastern Sierra can sometimes overtake the commonsense precautions needed to be taken beforehand to make sure your car's engine and brakes are up to the task of the strain of driving a vehicle uphill places in the Tehachapi Mountains or the Sherwin Grade in Mono County or handle the blistering heat of Death Valley's 100°F-plus temperatures.
Caltrans suggest that you get your vehicle road ready and that you should check the following before you set out: (Sierra Wave added a few "extra items" that we know from experience should be listed)
Tire Pressure and Tread
Belts and Hoses
Wiper Blades
Air Conditioning System
Fluid Levels
Lights
Engine Cooling System
Car jack and usable spare tire
Even a well-maintained vehicle can experience issues on the road, which is why Caltrans also suggests you carry an emergency roadside kit in your vehicle. Suggested emergency kit contents include:
First Aid Kit
Flashlight (with extra batteries)
Sun protection
Jumper Cables
Maps
Tire Pressure Gauge
Extra Windshield Wiper Fluid
As some desert and mountain regions of California fall out of cell service areas, also bring items that may help you alert other drivers in case of an emergency, such as flares. All vehicles traveling during the hot summer months should be also well-stocked with drinking water and nonperishable snacks.
There have been recent incidents with tragic consequences for visitors that are not fully prepared when something unexpected, such as when a car breaks down or has a flat tire(s) in an isolated area.
Finally, Caltrans QuickMap is a vital tool for any road trip in California. You'll find the latest information on lane closures, road construction, CHP incidents, rest stop availability, traffic speeds on the California State Highway System, and more. You can find QuickMap at quickmap.dot.ca.gov or download the app directly to your iOS or Android device. You can also call the Road Condition Hotline at 1-800-427-ROAD (7623).
The bottom line is: Be Prepared! Be Road Ready! Your life may depend on it!