[CalTrans Press Release June 16, 2010]
BISHOP – Caltrans announced today, Tuesday, June 16, it is resuming litter pickup and trash removal along the California State Highway System following a temporary suspension due to COVID-19. Since the stoppage on trash removal, litter continued to accumulate along the beautiful highways of the Eastern Sierra, even with fewer vehicles on the road.
"Litter increases the risk of fire, pollutes our waterways, threatens wildlife and costs taxpayers millions of dollars to remove," said Toks Omishakin, Caltrans director. "We ask all Californians to be part of the solution, dispose of trash responsibly, and secure cargo loads before getting on the road."
Last year, Caltrans collected 287,000 cubic yards of litter—enough to fill 18,000 garbage trucks. Of that total, 35 percent resulted from efforts by the department's community programs, saving California millions of dollars. Any effort helps prevent litter from ending up in our waterways.
Caltrans takes great pride in keeping the highways of the Eastern Sierra clean for travelers. On June 16th, the temporary suspension on trash removal lifted statewide, letting Caltrans crews resume removing refuse from the roadside.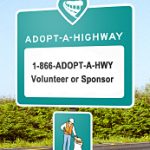 To mark the return of trash removal for the state of California, Caltrans hosted a Litter Pickup Day media event in Bishop. Caltrans maintenance crews all over the state participated today to clean sections of highway. In Bishop, John Andreas' maintenance crew led the way. Joining them were Mayor Laura Smith, Bishop City Administrator Ron Phillips, Sheriff Jeff Hollowell, and Bishop Chief of Police Ted Stec, and Dawn Stec, Also attending were several members of the media from Sierra Wave, KIBS, and the Inyo Register.