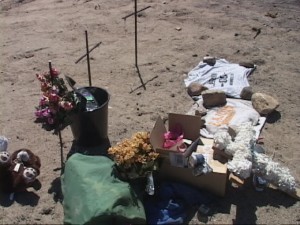 It's not exactly clear why Caltrans removed some roadside memorials a month or so ago when they had existed as remembrances for deaths on 395 for from three to twelve years, but we did confirm that Caltrans did remove some of those memorials or parts of them.
Last week, a local citizen contacted Sierra Wave Media to ask about a missing memorial on the side of the highway – the one involving three vehicles and three deaths in a fiery crash in 2010. Crosses, photos and flowers had marked the tragic spot. Where did the memorial go?
Sara Greer of Caltrans Public Information said the agency did remove that memorial and part of one honoring Bishop Police Officer Rich Perkins, killed in the line of duty south of Bishop in 2001. Greer said there are three reasons. She said there needs to be a clear recovery zone in case motorists need to go off the highway. She said, "We don't want obstacles for them to run into."
Greer said in the case of Officer Perkins memorial, rocks were buried deep and posed a hazard. She also said people who might stop at these memorials could be hit. Greer said she did not know why this issue has come up now after the memorials marked places of highway deaths for a number of years.
Greer claimed that memorials are removed according to Highway code 101.10. However, we read that code and it only addressed manufactured memorial signs. We did not receive clarification from Greer on that.
Clint Weir of Caltrans Maintenance said his department did not remove anything. However, he confirm that rocks were removed from Officer Perkins memorial. A badge and plaque remain, along with a manufactured sign. Mr. Weir said Caltrans did consult with Bishop Police Chief Chris Carter before anything was removed.
Sara Greer said that memorial removal is not a new policy if they are within Caltrans' right of ways, but she said she didn't know why this had become an issue now. She said Caltrans tries to work with families of victims to remove items or let them know that they can pick up their memorial items wherever Caltrans has stored them.