Lots of Caltrans crews and traffic flaggers out there this week. Today, motorists who traveled to and from Independence experienced delays of about 10 minutes to accommodate a chip seal project in that area. Brian Winzenread of Caltrans said that this section of work would probably wrap up on Tuesday.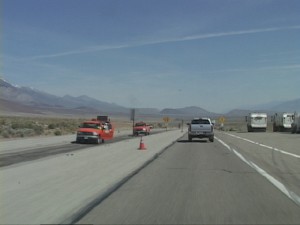 Another project was expected to give Highway 395 in the Fish Springs Road area a new treatment called a fog seal. Crews were expected to work all week long, from north of Independence to 7 miles south of Big Pine.
In Mono County, Monday through Wednesday, work from Conway Summit to Conway Ranch Road with lane closures and pavement grinding. Shoulder work is scheduled for 395 from the south junction with 158 to North Shore Drive. Back in Inyo County, highway work in the Lone Pine area, and work on Highway 190 in Death Valley.