With some problems, the highway project north and south of Independence and through the town continues.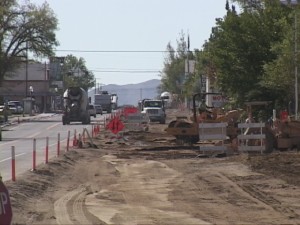 Caltrans engineer Rob Sanchez confirmed the mis-alignment of a wing wall on the bridge over the aqueduct south of Independence. Sanchez said the designer of this part of the project put down the wrong position. Instead of northeast, the wall was aligned to the northwest. Sanchez said it was an obvious mistake once it was built. He said, it's being fixed and will not cause stoppage of the project or a detour.
Sanchez said Granite Construction will work through the winter and will soon do paving north of town and in the southern section. Granite technically has until summer of 2010 to finish this major highway widening project.
In the town of Independence, crews continue to work on the west side of the highway. Sanchez said crews should finish up the in-town part of the project toward the end of October. Business owners continue to have problems. The owners of the Winnedumah Historic Hotel have experienced cracking with all the heavy highway work outside. All businesses report suffering losses due to difficult access.
For those who have asked about the culvert under the highway to the south, Sanchez said that it is a tunnel for cattle crossing, similar to one installed in the black rock four-laning.