As part of Governor Gavin Newson's California Comeback Plan, the Department of Transportation (Caltrans) District 9 Deputy Director of Maintenance, Terry Erlwein was on hand last Thursday to meet with local news media to "spread the word" for a trash pick-up effort today in Southern Mono County to highlight Governor Gavin Newsom's Clean California initiative.
The Plan is a sweeping three-year, $1.5 billion proposal announced as part of his California Comeback Plan to remove litter and engage communities on beautification efforts through job creation, education and public artwork.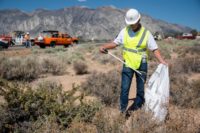 A gathering at a roadway stop area midway between Bishop and Crowley, provided the setting with the backdrop of the mountains against a beautiful blue sky, which was only marred by the the very noisy  traffic on Highway 395 that went whizzing by as some attempted to speak.  Fortunately none of the traffic barreling past rolled down their windows and actually threw trash out of their vehicles as they drove by. There was already enough trash available for litter pickup photo opportunities onsite.
Mono County Supervisor, Bob Gardner, was one of the officials present, and he said, "I strongly support and endorse this proposal. We are very concerned about litter in Mono County and this initiative will help us preserve our public lands and maintain the beauty of this region for generations to follow."
After speaking, Gardner and Town of Mammoth Lakes Council member John Wentworth, donned hard hats, orange Caltrans safety vests, and trash picker tools, and started picking up trash along the fence between the turnout and the freeway. There did not appear to be any representatives from the City of Bishop or Inyo County present, although that may have been largely due to the somewhat last minute notice of the media event and a change in venue.
According to Caltran's press release, trash has plagued California's streets and freeways for decades. Clean California calls for massive investments in litter collection, community engagement and education to transform unsightly roadsides into spaces of pride for all Californians. This is truly a statewide effort with potential projects in all 58 counties and with a third of the funds going directly to cities, counties, tribes and transit agencies to clean local streets and public spaces.
It is anticipated that Clean California will create approximately 15,000 jobs over three years, including opportunities for people experiencing homelessness, at-risk youth, and people re-entering society following incarceration.
The proposal also calls for educational outreach to help drive a cultural shift of shared responsibility for the cleanliness of our roadways by focusing on properly disposing trash and amplifying awareness about the impact littering has on natural resources, waterways, public safety and health.
Caltrans collected 270,000 cubic yards of trash in 2020—enough to load 18,000 garbage trucks. Clean California will remove an additional 1.2 million cubic yards, or 21,000 tons, of trash from state highways, the equivalent of filling the Rose Bowl three times, or enough garbage bags to stretch from Sacramento to New York City.