It was Caltrans to the rescue when Northern Inyo Hospital reported that a shipment containing nuclear medicine was waiting at the airport with no way to transport it to the hospital where patients were waiting.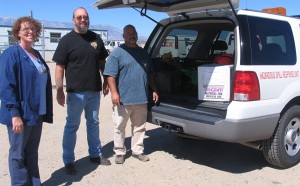 Seems that only a driver with a HAZMAT license endorsement could do the job. Caltrans said that because of a nationwide shortage, it was difficult to get. Without this kind of driver, the nuclear medicine products would have been returned.
Caltrans Hazmat Manager Monty Packard, along with Maintenance Superintendent Dave Batchelder, rushed to the airport, picked up the package and delivered it to Northern Inyo Hospital.