By next summer, we may all find relief from the dangerous 2-lane section of Highway 395 between Independence and Big Pine. That major four-lane project has made progress and looks forward to completion sometime next spring or summer.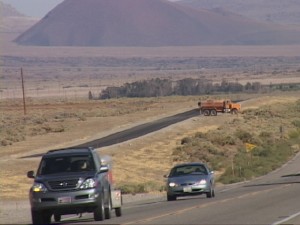 Brian Winzenread, a Caltrans Deputy Director, said that the two new lanes constructed to the west of the current highway are 40% paved. He said this week, the contractor paved a new test strip designed to examine specifications. Then a month more of paving remains.
Winzenread said that crews plan to move traffic over to the two new lanes by Thanksgiving. Then, they will re-hab the two existing lanes with earthwork and new paving that will take place when temperatures are warm enough for asphault.
That two-lane section, called Death Alley by locals, has seen many head-on collisions. The most recent, earlier this month that claimed one life and caused major injuries in others.
Meanwhile, the main construction on the other four-lane project from Manzanar through Independence will start toward the end of October.
The contractor on that job, Granite Construction, will meet with the Independence community to discuss the project, its schedule and contacts for information.