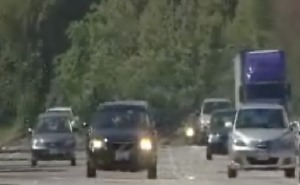 According to Capitol Television News Service (CTNS), the number of fatal traffic accidents in California continues to fall.  The state saw deadly accidents drop nearly 12% last year compared to 2009.  It's the fifth year in a row that traffic deaths in California have gone down.  The nation's overall traffic fatality rate is estimated to have fallen by 3%.
The 2010 death total of just over 2700 is the lowest for the state since 1944 when a tenth of the number of vehicles traveled a sixteenth of the number of miles driven today in California.  Traffic officials say the 12% drop in fatal accidents can be attributed to a number of factors.
Chris Cochran, California Office of Traffic Safety said, "Cars are getting better. They're getting safer, and more people are buckling up.  Fewer people are getting DUIs.  There's more enforcement out there."  Cochran said that credited Californians with "doing it right.  They're buckling up.  They're driving safer.  They're the ones who are really getting the Kudos out of these numbers."
Traffic officials say the drop in fatalities the last five years means thousands of Californians are with their families instead of being a traffic statistic.  The office of traffic safety also announced it has received $76 million to support more than 200 traffic safety grants for state and local agencies with two new areas, distracted and drugged driving getting special emphasis.