They're the ones who put out fires that could burn down your house, stop wildland blazes, take care of the injured at car wrecks and help handle hazardous spills. This describes what we've all known for years as CDF, California Division of Forestry. Governor Schwarzeneggar re-named what amounts to California's fire department. CDF is now known as CalFire. CalFire is the third largest fire department in the nation, definitely the biggest in California, and their crews work here, too.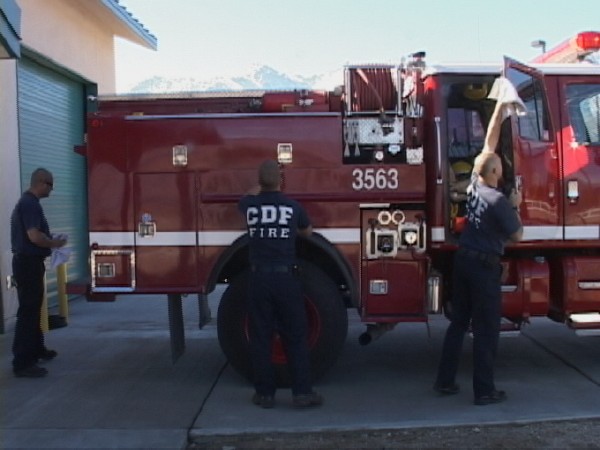 The officials and crewmen think they are sometimes misunderstood as bureaucratic firefighters who have pushed their way into Inyo-Mono. A visit to the new CalFire station in Independence shows what they really do. Three of the crew or sometimes more live at the station 72 hours at a time. That means they're on call and ready to roll it out any time of night or day.
The new station appears military clean and neat – two beds to a room, modern and spacious bathrooms, laundry, storage and a big kitchen where the men cook their own meals, dine and relax until duty calls. They buy their own food and commit to sometimes long separations from their families.
Fire Captain Paul Melendrez makes it clear – the men work hard every day to train, stay in physical shape, keep equipment up to par and learn new methods of protection.
CalFire has headquarters in Independence and the Bishop area at the Conservation Camp. CalFire Captain Craig Williams explained that the organization came to the Eastern Sierra in the late 50s when DWP was concerned about fire protection on its many acres. The Conservation Camp was built in the 60s. CalFire crews were particularly visible earlier this summer during the huge fires above Big Pine and Independence.
I asked Captain Williams about fire conditions in the Eastern Sierra. They're more dangerous than most places. The Captain said, "Fighting fire in the Eastern Sierra is something you need to know. The winds, fuels and escarpment off the eastern side are very dangerous off the 395 corridor. When we do get larger fires, there is more equipment damage and injuries. Some of the fire behavior is almost unpredictable due to the low humidities, types of light, flashy fuels. The winds roll off the steep escarpment, eddy up and run back down. I've seen fire burn just as well at 3 o'clock in the morning as it does at 3 o'clock in the afternoon – uphill and downhill at the same rate of spread." he said.
Captain Williams said he and others try to have briefings with new crews that come into the area to let them know about the very difficult conditions.