State of California • Department of Transportation
__________________________________________________________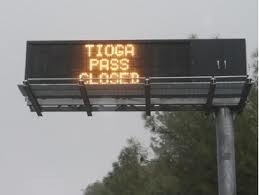 NEWS RELEASE
Date: November 26, 2019
District: 9- Bishop
FOR IMMEDIATE RELEASE
MONO COUNTY – The California Department of Transportation (Caltrans) would like to alert the traveling public of today's closures in Mono County. An impending winter storm is expected to drop between one and three feet of snow in the mountains and as much as 10 inches of snow in the Owens Valley. Caltrans will be preemptively closing Sonora Pass/State Route 108 and Ebbetts Pass/State Route 4 today, November 26 th , at noon. Monitor Pass/State Route 89 will close an hour later at 1:00 pm. Tioga Pass/State Route 120 West remains closed from the last winter storm.
Caltrans will be monitoring the weather throughout the week and may require additional closures of State Route 120 East and State Route 168 West near Aspendell. These, and other road closures, will be enacted only if Caltrans determines the severity of the storm necessitates them. Several factors influence the temporary closing, opening, and seasonal closures of our pass roadways. Storms, accumulation of snow, and road conditions are all considered when deciding to open or close a pass.
Additionally, Caltrans will be closing the Crestview Safety Roadside Rest Area on U.S. Highway 395, approximately seven miles north of Mammoth Lakes, for the winter season today at noon.
The closure is necessary due to the winter weather conditions in the forecast. The Crestview Rest Area will reopen to the traveling public in Spring of 2020, weather permitting.
#
For the latest highway information please visit the Caltrans QuickMap site at
quickmap.dot.ca.gov or call the Road Condition Hotline at 1-800-427-ROAD (7623).