On Thursday, June 17, Cal/OSHA regulators decided in a 5-1 vote to allow fully vaccinated workers to stop wearing masks while at the workplace, bringing the rule into line with June 15 state guidelines which align with the California Department of Public Health, which ended most mask rules for people who are fully vaccinated against COVID-19.
Gov. Gavin Newsom immediately signed an executive order that will allow the new rules to go into effect immediately, avoiding the usual 10-day administrative law review that would have pushed back the effective date to June 28.
Following are the new masking guidelines for workplaces:
Vaccinated employees are not required to wear masks while indoors, except for the places where California still requires masks to be worn by everyone
Unvaccinated employees must still wear face masks in indoor settings
Face masks are not required for vaccinated and unvaccinated workers while outdoors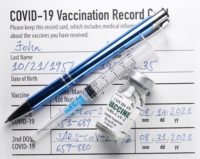 Employers need to document who is vaccinated in their workplaces, but they are not required to retain copies of vaccination cards. They can allow employees to self-attest to full inoculation.
The Cal/OSHA's guidelines require approved face coverings—such as N95 masks—to be provided to unvaccinated workers who request them rather than have them physically distanced.
Regulators said that businesses can choose to be stricter when it comes to masking.
Physical distancing requirements will be lifted unless a work facility has a coronavirus outbreak. The guidelines say that all employees, regardless of vaccination status, will need to wear face masks if there is a surge in COVID cases at the workplace.
Another change is that vaccinated employees will not be required to miss work to quarantine if they become exposed to someone who contracted COVID-19.
Prohibitions on sharing personal items or work equipment have been lifted. The regulators say employers should implement more cleaning protocols and evaluate their ventilation systems.
Employers will need to make COVID-19 testing available to unvaccinated employees when they have symptoms.
There was still much concern expressed by those opposing the changes. The lone "no" vote came from Board member Laura Stock, an occupational safety expert. She said that even though people are tired of restrictions, the pandemic is not over.
"This has real consequences that people can get sick and die due to exposure in the workplace," Stock said, going on to say, "The rules go too far by eliminating physical distancing and workplace partitions and allowing workers to self-report their vaccination status."
The concern over the integrity of "self-reporting" is well-taken. Few feel an honor-system means anything to anti-vaxxers and masking opponents, many of whom still insist there was never a pandemic.
And questions still remain. The Cal-OSHA board is looking at further revising the rule. Its subcommittee will meet on Monday, June 21, at 10:30 a.m. to further discuss the standard.