Press release
CAL FIRE Division Chief Paul Melendrez of the Owens Valley Division was recently
recognized by Mono County District Two Supervisor Fred Stump and Fire Chief Dave Doonan of the White Mountain Volunteer Fire Department. Chief Melendrez, along with a crew from the Mono County Road Department quickly acted on a residential structure fire off Highway 6.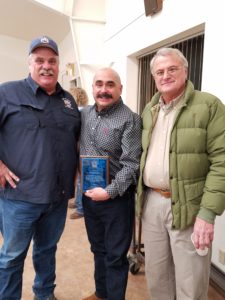 Chief Melendrez made entry into the home through a broken window. He woke two adults and
two small children who were sleeping inside of the residence and escorted them out of the
building to safety.
The crew continued efforts to control the fire until the White Mountain Volunteer Fire Department arrived on scene.
CAL FIRE San Bernardino Unit truly appreciates our community partnerships throughout San
Bernardino, Inyo and Mono Counties. Congratulations to Chief Melendrez.