C.B. Jack Frost age 70, resident of Big Pine, CA. for 28 years. Was born in Fresno CA. on February 8, 1944 to parents C.B. Jack Frost Sr. and Georgerina Frost,. He passed away on July 12, 2014 at Northern Inyo Hospital in Bishop CA. Surrounded by his loved ones.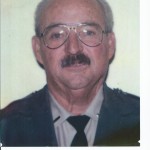 Jack served in the Navy from March 21, 1962 to March 21, 1968, he was a Vietnam Veteran. Upon discharge from the Navy he worked briefly for Sylvan School District in Modesto CA. He then began his 32 year career working for the State of California Department of Corrections, and retired from Owens Valley Conservation Camp as Camp Commander on December 12, 1997.
Jack is survived by his wife Patricia of 45 years, children David, Dennis and Denise of Oklahoma City Oklahoma, Peter Frost of Vacaville CA., Pamela Hartshorn of Missouri and Paula Roberts of Fresno Ca.
8 Grandchildren and 4 Great Grandchildren. Sisters Nancy Webber of Modesto CA. and Kathryn Berta of Modesto CA. Brother Thomas Frost of Prather CA. He is also survived by numerous Nephews and Nieces.
Memorial Services will be held on July 26, 2014 at 10:30 am in Bishop CA at the Veterans of Foreign Wars Post 8988.