By Charles James
Christmas is the big season for giving and receiving consumer electronics as gifts. Laptop computers are especially popular.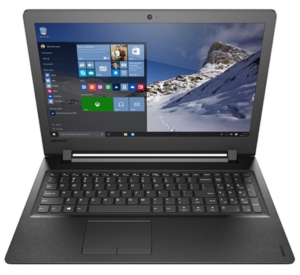 They don't have to be expensive, especially laptops with the world's most popular
operating system, Microsoft Windows. It is estimated that 90-plus percent of the world's computers run on some version of Windows.
There are other operating systems available, such as Apple's iOS and Mac
iOS, Google's Chrome OS, and much less common, Linux-based OS. Today, we will focus on moderatelypriced, Windows-based laptops best suited for home-users for under $500.
Here are a few tips to consider:
1. Don't buy an "off-brand" laptop and don't buy based just on a low-price alone.
2. Buy from reputable online or brick-and-mortar stores. Computers built by major computer brand manufacturers such as such as Dell, HP, Lenovo, Asus, Acer, Toshiba or Samsung, are best.
3. Home computers are typically used for entertainment and other personal uses, such as social networking (Facebook, Instagram, etc.), sending and receiving email, browsing the Internet, purchasing products online, reading, music, games, and streaming movies and television shows on Hulu, Amazon Prime, Netflix and other online entertainment content providers.
4. A home computer does not need the fastest, most technologically advanced computer on the market. If it's a typical laptop with connected keyboard, you do not need a touch screen unless it is a convertible model that can also be used as either a laptop or tablet.
5. Good deals can be found on refurbished computers. All major computer manufacturers and online retail stores selling electronics offer them with warranties.
Even though technology changes quickly, most laptops bought today, will last you for several years.
An example of a laptop under-$500:
2017 Premium High-Performance Lenovo Laptop PC with a 15.6″ HD Display, Intel i3-6100u Processor, 8GB DDR4 RAM, 1TB HDD, DVD-RW, Bluetooth, Webcam, WiFi 802.11 AC, HDMI connector and Windows 10 operating system for $418.00 with FREE Shipping (5 days) for Prime Members. Available at Amazon.com.
Let's look at some of the specifications that you should look for in a modestly-priced Windows-based computer. There are many configuration options:
Some have DVD players; many do not. Some have touch screens; many do not. Some even have lighted keyboards; although most do not. While these are nice
to have, but they not critical or deal-breakers for the average home user.
Here are some specifications you should look for in sub-$500 models:
CPU (Central Processing Unit): Think of the CPU as the "brain" of the computer. Intel Core i3 or Core i5 are best in this price range, but AMD's E-series APU are okay.
RAM (Random Access Memory): More memory means a faster CPU. While 8GB is best, 4GB is perfectly fine. You can almost always add more memory later. Avoid laptops with only 2GB or less.
Storage: With online storage now readily available on OneDrive, Dropbox, GDrive, and other cloud storage services, you don't need large solid-state drives (SSDs) or hard-disk drives (HHDs). Your best bet is to go with 128GB to 256GB SSD, which are becoming increasing popular or a 1TB or 500GB hard drive.
Stay away from 32GB eMMC or SSD which are barely capable of running Windows.
Screen resolution: Screen resolutions of 720p or 1080p are most common. Often, you often cannot tell much difference, although higher 1080p will allow more information to be seen on the screen. Higher resolution does have a trade-off in battery usage, but may be worth it if you need use spreadsheets or documents that take up a lot of screen space.
GPU (Graphics Processing Unit): A dedicated or discrete GPU is something that is of more interest to gaming enthusiasts than for the average home laptop user. For most home users, Integrated Radeon graphics or Intel integrated graphics are both adequate…and common in lower-priced laptops.
There are many great deals available on laptops under $500 that can be found at both retail stores and online such as Walmart, Costco, Sam's Club, BestBuy.com, Amazon.com, and Woot.com. Do your homework and save both money and time knowing up front what to look for in a new laptop.
In future articles, we'll take a look at tablets and Chromebooks, which are acceptable alternatives to laptops for many users.
If you have any questions, suggestions or comments, please contact me at
[email protected]