Douglas Jerome Butler, Sr.
March 21, 1933 –November 18, 2015
Born in Los Angeles, CA went to the Lord in Ridgecrest, CA at the age of 82.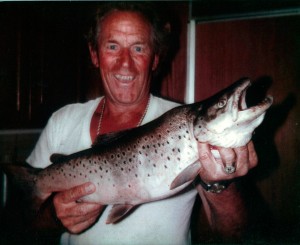 Upon graduating from Burroughs, he served in the Army and received an Honorable Discharge.
Because of his love of cars, he went from being a top salesman, several times, to owning and running a Ford Lincoln Mercury Dealership with Rosie, the love of his life. Doug had a real passion for races, from the horses to cars. When he had the dealership, he also had a 1966 stock car, Lil Red, that won both the Winter and Spring Nationals.
After he retired, 19 years ago, both he and Rosie moved to Crowley Lake, CA due to their love of the mountains and his love of fishing. Within a few years, he started DB's Hardwood and DB's Fishing Guide Service, where he was well respected and liked by all. He soon gained a reputation for his honesty and warm personality and his word of mouth business was booming.
Doug had a gift of making everyone feel comfortable, if you just met him, you would have thought you'd known him for years. He was a friend to everyone, to know Doug was to love Doug.
He took great pride in helping others, and was a big supporter of Disabled Sports. He would take 'Wounded Warriors' fishing, even if he wasn't feeling so hot, he'd say "it wasn't about him-it was about them! And if he could bring them a little bit of joy, then dadgum, he was going to do it!"
Doug is survived by his beautiful bride of 56 years Rosie; Children Doug Jr., Janet (husband Ken), Michele (husband Michael), Mark and fiancée Teresa. Grandchildren Katie, Tanner, MacKinzie, and Mason. He is preceded in death by his parents, Charlie and Marti, and brother Dan.
Doug may not be here in his physical form, but he will always be with us and in our hearts.
If you would like to tell stories about the way Doug touched your life, please email Janet at [email protected] or Michele at [email protected]
Services will be held on Dec. 2nd at 1:00pm at Brune Mortuary 325 W. Elm St. Bishop, CA 93514
Casual Attire, please dress comfortably.