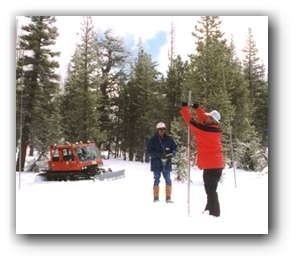 Instead of worst ever, officials now call this year's snowpack slightly better. The California Department of Water Resources snow survey team checked out conditions last week, and the Los Angeles Department of Water and Power snow team measured conditions and posted them Monday.
In February, DWP measured 11.3 inches of water content at Mammoth Pass. DWP measurements now say the water content has gone up to 17.6 inches. The Department of Water Resources checked the snow at the end of February and said, "With a scant snowpack and dangerously low reservoirs, DWR's snow survey team on February 27th records a slight boost in the snowpack. Despite the new snow, however," DWR said, "surveyors report snowpack water content is only 24% of normal for the date." That's statewide.
DWP's snow pillow readings for Inyo and Mono show Mammoth Pass at 47% of normal to date. Rock Creek, 38%. South Lake, 55%. Big Pine Creek, 28%. And, Cottonwood Lakes at 51% of normal to date in terms of water content. Actual precipitation figures show all areas below 50% of normal. Long Valley measures 13% of normal to date. Big Pine, 31%. Independence, 40%. South Haiwee, 14%. And, Los Angeles, 22% of normal to date for precipitation.
The Water Year, so-called, starts April 1st. So, many hope for continued wet weather this month. However, State surveyors and others say even a wet March will not make up for the very dry winter.
Other weather experts have begun to look beyond this summer to next fall when they say their computer models indicate increasing signs of El Nino's return, according to a Los Angeles Times story. Senior Scientist at the National Center for Atmospheric Research in Boulder, Colorado, Gerald Meehl, is quoted as saying that there are multiple indications for El Nino and that "We're kind of due for one." El Nino usually means wet weather for California, but that's not predicted until next fall or winter.