– Press release
The Eastern Sierra Tri-County Fair has been hard at work making plans for the 2015 event season and beyond. There are many new events coming, continuation of some favorites and some new faces. Jaque Hickman of Lone Pine was named as the newest Director of the 18th  District Agricultural Association on March 24, 2015 by Governor Brown's office.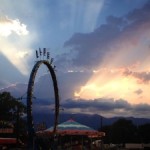 "We are pleased to have Jaque Hickman as a part of the Board. With her longstanding involvement in the Lone Pine community and the Eastern Sierra in general Jaque will be a great asset to the Fairgrounds and its future. At the same time we would like to thank long time board member Sam Dean for his service. Mr. Dean served the Tri-County Fair as a dedicated Board member for over 20 years, and was invaluable in his contributions to the success of what we do," stated fair CEO Sally Symons.
Also of note is the extension of the contract with California State High School Rodeo Association for Bishop and the Tri-County Fairgrounds to be the home of their State Finals each June. "The current contract goes through June 2016, and we have negotiated a three year extension that will keep this fine organization and its young athletes coming to Bishop through June of 2019. We couldn't be more excited to extend this wonderful relationship between our community and CHSRA," Symons commented.
The Tri-County Fairgrounds has a few new events in store for the Eastern Sierra in 2015, in addition to all the traditional favorites. First, is the opportunity to enjoy a night of family entertainment with the Powerhouse!! Dance group on
Thursday, April 9th
. Co-sponsored by the Inyo County Office of Education, the public can enjoy an evening of percussive dance for only $2.00, with children under 12 admitted free.
"One of the biggest requests I've heard since taking my position at the fairgrounds is more music and concerts. So, in response to that we are having a rock concert on
June 11
with world famous rock band Y&T, and we're putting a concert back on the schedule during the fair," revealed Symons. Y&T will perform their special brand of rock-n-roll in the Charles Brown Auditorium on
June 11
with opening act the Greg Golden Band from Reno.
And for the country fans out there the 2015 Tri-County Fair will open with a concert in the Mike Boothe Arena by up and coming Country singer Austin Webb. Symons continued, "We are working hard to give the community what it is asking for, all we ask is that they come out and support these concerts, and continue to give input as to what they'd like to see at the Fairgrounds."
Another new event in store for 2015 is a Haunted House for the Halloween season. Although the Haunted House is still in the planning stages, it is being planned for the last two weekends in October. More details will be forthcoming, and anyone interested in volunteering or being part of the planning should contact Sally Symons at
[email protected]
.
"With all the new things we are planning, we don't want anyone to forget the long standing favorites, such as the 20th Annual Home, Garden and Recreation Show coming
May 1 & 2
, the Junior Livestock Show set for
July 8-11
, and of course the Fair itself slated for
September 3-6
," concluded Symons. These three mainstay events will have some great new features and attractions, as well as the parts that fair guests have come to look forward to year after year.