While graffiti in Mammoth Lakes is clearly not so prevalent as in major urban areas, there are some locals who would rather not see even a little bit. When a wall was spray painted with gang related tags and messages back in December, the Public Works department was quick to sandblast the lettering off.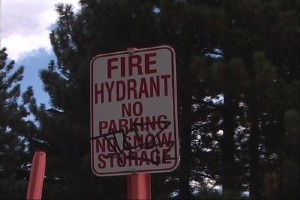 Despite one local resident's offer of cash for information on who painted the wall near the neighborhood known locally as the ghetto, nobody has yet owned up to that graffiti.
Last summer we spoke with Mammoth Code Compliance Officer Rick Ramirez about a plan to curb graffiti in Mammoth. The idea is to use digital photos of the graffiti to establish a pattern and narrow down certain tags to a single individual and give them a stout punishment. The thinking goes that once a couple of offenders face the community service and fines, others will see that it is not worth it.
Ramirez says that the plan is working pretty well. One juvenile male has already been caught for tagging dumpsters and trash cans.
Ramierez took photos, asked around, knocked on a few doors before he got a name. When the juvenile's locker was searched, they found the same tag on a notebook. That juvenile owned up to the graffiti and received 50 hours of community service. Ramirez has the juvenile offender out on the side of the highway cleaning up trash and next will have him removing stickers from signs around town.
Ramierez says that eventually kids will come around and see that graffiti is not worth it. As for catching people marking up the town, Ramirez says that once he starts taking pictures of the graffiti it's just a matter of patience before he catches the offenders. At least one Mammoth resident can tell you that is true.