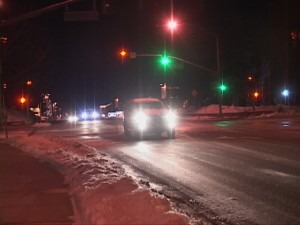 As the old year ends, business owners in Mammoth Lakes still debate formation of a Business Improvement District. The biggest challenge, according to Mammoth Lakes Tourism Director John Urdi is which retail stores to include in the new district and how much to tax them. Lodging and restaurants will definitely go into the district. It's retail that has raised questions.
The idea focuses on businesses that directly benefit from tourism with a tax on their gross income. The proposed taxation goes like this – Lodging pays 1%, retail and restaurant pay 1.5% and lift tickets and ski school pay 2%. All of this would raise an estimated $4 million. Around $2 million of that would go to marketing and sales, $175,000 to Public Relations, $1.1 million to air service marketing, $175,000 to special events and $175,000 to administrative costs and reserves. As Urdi said, the retail piece of this has held up a final agreement.
Sports shop owners Tom Cage and Tony Colasardo feel a 1% tax would be more fair. Cage said he and Colosardo have spent many hours meeting with retailers and Mammoth Mountain CEO Rusty Gregory who first proposed a Business Improvement District. Cage said that retailers do not generally support the 1.5% tax. He said this would give Mammoth Lakes the highest tax rate in the state. Said Cage, "It's too much, but we can support 1%." Colasardo pointed out that a 1% increase for lodging would up the bed tax by roughly 12 to 13%. A 1.5% for retail would mean a bump in sales tax of 22%.
Another sticking point – right now, Vons, Rite-Aid and the Do-It Center are not in line for new taxes. Retailers say those places do benefit from tourism and should pay, lowering the overall tax needed. Tourism Director Urdi said it's all up in the air right now. He admitted that the retail part of the plan presents the biggest challenge. Urdi said, "Lodging and restaurants are the easiest to define how they benefit from tourism." Asked why Vons, Rite-Aid and the Do-It Center are not on the list to be taxed, Urdi said the exploratory committee on the new taxes does not want to impact local people. Urdi called Mammoth's Improvement District "groundbreaking" because it will involve more than lodging which is what most BID's in the state include. Urdi said, "The whole goal is to get the community marketed, including Mammoth Mountain."
He is a believer that marketing will bring more people and more dollars to town. Urdi sees leveraging free air fare with lodging and dining packages as one way to do that. He said, "We need people to keep Mammoth in the top of their minds or they will go somewhere else." He said marketing efforts could focus on mid-week and shoulder seasons to even out the economy. That's been a Mammoth Lakes goal for decades. As for the improvement district, Urdi said the support for it outweighs concerns.
The exploratory committee of some 18 business people will meet again January 8. Urdi said they will get on the phone with their attorney and deal with what retailers can be taxed. Tom Cage said he has talked to twelve other retailers who "have heartburn about Vons, Rite-Aid and the Do-It Center not being included." Cage said why not include them and lower the tax rate. With the sales tax in Mammoth Lakes at 7.25%, when Measure R's .50% is added along with Measure 30 at the start of the new year at .25%, the total will equal 8%. Then add 1.5% for retailers and they sit at 9.5%. Many Mammoth retailers say that's just too high.