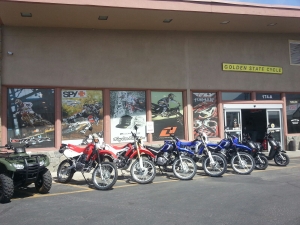 He will keep his rental business going, but owner Randy Gillespie sent out a press release to say he will close the doors of Golden State Cycle at the end of June. Gillespie names the down economy, changing trends, internet competition and the delay of the Adventure Trail project as factors in his decision.
Gillespie's press release says:
"Dear Valued Customer, For several years the powersports industry has changed tremendously. Due to the economic downturn and competing with the Internet, makes it very hard to keep my doors open. My commitment and my love for Golden State Cycle is not enough.
After 21 years I will have to close the doors. I will try to make June 28th 2014 our last day of operation for Golden State Cycle. Please redeem your gift cards ASAP.
We have made so many memories surrounding this great sport. I would like to thank you for your continued support and long time friendship with Golden State Cycle. My wish for you is to keep riding, keep playing, and take advantage of our open roads and our open trails. Look for our liquidation sales coming soon.
Thank You…Keep Riding Randy Gillespie Owner/Golden State Cycle"
Golden State Cycle has operated on Bishop's Main Street for 21 years, selling and renting motorized products popular in our desert region. It was Gillespie and Dick Noles who devoted a major personal effort to open up opportunities for dual designation vehicles to enjoy off-roading and then drive into our communities for services. Assembly woman Connie Conway authored AB628, and the legislature approved it nearly three years ago. But environmental legal challenges and delays by the Forest Service have held up progress. Gillespie said if Adventure Trails were operational, it is possible he would not have to close his store. He said the positive economic impact of the project might have kept other businesses from closing also.
Over the Mule Days holiday, the many visiting politicians converged in one big meeting at Creekside Inn to talk about AB628. Representatives of the Inyo Supervisors, Bishop City Council, CHP, Bishop Police Chief, County Sheriff, Congressman Paul Cook and Diane Feinstein's Chief of Staff, among others, talked over the delays of the unique legislation that many other counties and cities have an eye on.
Inyo Sheriff Bill Lutze said the meeting was to get all parties in one room and focused on issues delaying the project. AB628 has a sunset clause that shuts it down in a couple of years. Inyo County is currently conducting an EIR on the project, and the Forest Service has lately blocked progress regarding roads on Forest land maintained by the County. Half of those 28 road are part of the Adventure Trails System. If they can't be used, it could shut down the project.
The Forest Service is considering conducting a federal environmental review to turn over the roads to Inyo County, which is already maintaining them. The Sheriff said Congressman Cook and Senator Feinstein's Office will look into this. He said the big meeting was to get everyone "on the same page and to try to get a direction to keep the Adventure Trails Project from dying."