Press release
Bishop Unified School District is running a district wide "Students Supporting Cancer Awareness" campaign between March 27th and April 7th.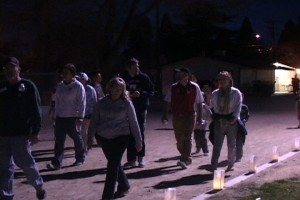 During this 2 week period they will have many wild, wacky, fun and creative activities on all campuses to help raise money and awareness of Cancer. All proceeds will benefit our local Eastern Sierra Cancer Alliance. Students of all ages will be collecting money throughout the community.
On Friday, April 7th, the public is invited to attend the closing ceremonies at the "Shine on the Sierra Luminary Walk" on the BUHS track. The evening will be filled with lots of music, food and fun. Registration is at 6:30 followed by the walk from 7:15-8:45.
Luminary bags in which you can decorate will be available for a $5 donation. You may walk in honor or in memory of someone who has dealt with Cancer or you may just walk to show your support.
There will also be a Bone Marrow Registry which is a simple mouth swab. You will be able to purchase, NASA Indian Tacos, Face Painting by the BUHS Cheer Squad, Sweatshirts by HAPPY HOODS and Beverages & Cookies from Looney Bean.
Please come together as a community and get involved in this extremely important campaign, your gift could help save a life.
Proceeds from the Student Supporting Cancer Awareness campaign and from the Luminary Walk will benefit the Eastern Sierra Cancer Alliance. Checks may be made payable to ESCA.
Hope to see you there and we appreciate your support.