By Deb Murphy
Bishop Union School District's Board President Taylor Ludwick admitted the 2019-20 year got off to a rough start at a special meeting held Monday evening.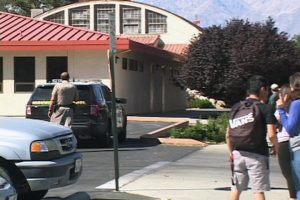 The meeting had two items on the agenda: first, a clean-up motion on graduation requirements and, second, "communication between the Superintendent and school board." Those in the packed cafeteria were there for the second item.
Roughly 20 people addressed the Board, questioning some of the policy changes initiated by new District Superintendent Jon Ray, a follow-up to a tumultuous meeting September 19. 
Teachers were in the position of justifying their work; parents were supportive of the teaching staff but felt sidelined from the process. Jose Jimenez saw the changes as taking the teachers away. "My kids rely on those teachers like they rely on us at home," he told the board in reference to the proposal for Edgenuity, an on-line learning system.
Math Department Chair Barbara Fernandez referred to a letter from the District to parents citing underperformance on testing. "Those are strong words," she said, "and they don't represents what's really going on." Results from the district's Smarter Balance Assessment Consortium testing, she explained, were not reaching standards but were on par with state results. She added that Bishop results were better than four out of five other comparable rural schools.
Basically, the Board put the brakes on both MAP testing and Edgenuity. The Board directed Ray to meet with stakeholders, parents and teachers, to develop goals and direction, specifically, improving communication and to provide more details on MAP testing.
Board members Claudia Moya-Tanner and Virginia Figueroa both told the audience to continue coming to meetings. "Accountability starts with us," said Moya-Tanner.