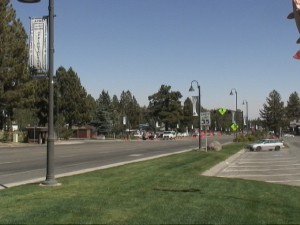 To try to put a bus stop controversy to rest, Stuart Brown of the Town of Mammoth issued a press release. Some residents had protested the removal of the Lupin and Main Street bus stop, citing grant money and plans. Brown said that the stop was discontinued based on "input from the transit operators, Eastern Sierra Transit Authority and Mammoth Mountain Ski Area in conjunction with Town Transportation staff."
Brown said that the stop was "eliminated due to its close proximity to the Joaquin and Main Street bus stop ad because of safety concerns related to that proximity." Brown said Mammoth Mountain buses had been involved in two rear-end accidents due to the bus stopping so soon after the previous stop. Brown also noted that the Mammoth Mobility Commission concurred with this staff decision when they talked about it at their October meeting.
To citizen complaints about geothermal tubing installed in the sidewalks from Frontage Road to Main Street, Brown said that plans for walkways were developed many years ago and infrastructure for geothermal was planned for the day actual geothermal heating could be used in town.
Brown also noted that the Mammoth Transit System resumes winter Service Saturday, November 20th. Passengers ride for free on all fixed routes in Town.