A charter bus carrying nearly 50 people associated with Bishop Union High School crashed Saturday on US Highway 395 while returning from a trip to southern California. Thankfully, there were no major injuries.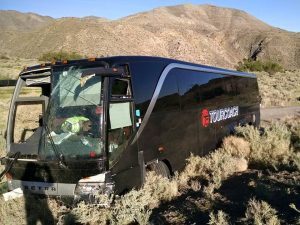 The California Highway Patrol said the accident occurred at 3:38 pm on April 23 northbound on US 395 in a 2008 Setra Bus driven by Edgar Perez, a 38-year-old from Moreno Valley.
A press release from Bishop Unified School District Superintendent Barry Simpson states:
"On Saturday, April 23, 2016 a charter bus carrying approximately 44 BUHS students and five chaperones and staff members was involved in an accident on HWY 395, approximately 10 north of Pearsonville, California near Little Lake. My office has been in contact with representatives from the charter bus company. According to officials from the Tour Coach Company, the driver of the bus was experiencing a medical emergency and blacked-out. The bus went off the road and eventually came to an abrupt stop after hitting an anchor cable off of the highway. The driver has undergone surgery for issues related to the symptoms he experienced while driving the bus.
"Following the accident nine of our students were transported to the Lone Pine and Ridgecrest Hospitals as precautionary measures for minor injuries and were released that evening. Two BUHS employees were also transported to the hospital for treatment one was released that evening and the other was admitted.
"The Bishop Unified School District occasionally uses charter bus companies to transport students for special events. The students on this bus were part of the AVID program at BUHS and were returning from an annual trip visiting college campuses in Southern California. The students had fund-raised the money that was used to contract with the charter bus company.
"We are extremely grateful that there were no serious student or staff injuries. My office is working directly with the Tour Coach Company which has already set up an accident claim. We will work with each of our families to insure that all claims are filed properly. Again, we are very thankful that all of our students and staff members are safely home. Any further questions can be directed to my office at
760-872-3680
."
AVID is Advancement Via Individual Determination, a global nonprofit organization dedicated to closing the achievement gap by preparing all students for college and other postsecondary opportunities.
A Bishop Unified School District bus was sent to the crash site to bring the rest of the group home.