Our favorite suggestion of the week. Here it is – Take the first 535 people who walk out of Vons and put them in Congress.  They would do a better job than the guys who are there.  Hey, no joke.  They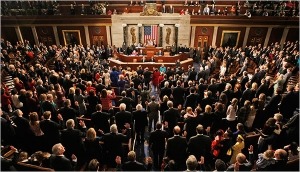 would, that is, until they were bought off by special interests.
Much has been made of the stupid pledges congressional representatives have lately signed.  We've got a pledge for them.  When they touch the page, it will burn their fingers.  It would say something like, "I pledge to accept no money from any special interest or corporation.  I will only accept money from individual citizens." No cheating allowed.
The recent performance by our federal officials proves the two-party system, as it now functions, does not function.  It's merely a stage upon which the bribed officials perform their power dance.  They are a weird breed of actors.  They don't even really care about the audience – that's us.
New York Times columnist Thomas Friedman came up with an interesting piece of information.  It's called americanselect.org.  A kind of third party that will produce a third presidential ticket, elected by an internet convention in 2012.  Friedman said, "An impressive group of frustrated Democrats, Republicans and Independents called Americans Elect, is really serious."  Friedman writes that the goal of Americans Elect is "to take a presidential nominating process now monopolized by the Republican and Democratic parties, which are beholden to their special interests, and blow it wide open- guaranteeing that a credible third choice, nominated independently, will not only be on the ballot in every state but be able to take part in every presidential debate and challenge both parties from the middle with the best ideas on how to deal with the debt, education and jobs."  In short, something has to give.
In fact, the Twilight Zone effect has turned up everywhere.  Listen to this.  Governor Jerry Brown signed legislation that would ban the use of homes of registered sex offenders for polling places.  Say what???!!!  Doesn't this fall under the category of Why Would This Happen in the First Place?
Seems at least 19 polling places in the Bay Area were listed on the state's Megan's Law website which tracks the homes of sex offenders.  The new law requires county elections officials to check on the website.  Geeesh.  On the other hand, we have heard that the website includes people that should not be considered sex offenders.  Affairs of life have truly slipped into the barely manageable.
Will the Town of Mammoth Lakes debt become manageable?  Still a huge question.  The Town's Financial Advisor in charge of debt issues, Marianna Marysheva-Martinez, laid out the schedule of discussions that will lead to public review of options in the fall.  In plain terms, that likely means hard decisions on more cuts to Town services.  The possibility of BK (no, not Benett Kessler), bankruptcy, looms in the ether.  Martinez and others say they do not prefer this option.  She shared an article with us about the City of Vallejo's not so pretty bankruptcy.  The column which ran on InsideBayArea.com quoted Vallejo City Councilwoman Stephanie Gomes at a meeting of a taxpayers association.  The column said, "Gomes' short answer was that bankruptcy is not a magic pill for cities struggling to balance their budgets."  We will have much more on this article during KSRW-FM newscasts.  It's a very sticky wicket.
So is the new proposal from Inyo citizens who say they are fed up to here with what they believe is the Inyo Supervisors refusal to include the public in important issues.  The most recent offense – closed session meetings over proposals to build a mega-county office building in Bishop.
Several citizens intend to circulate a petition for a ballot measure that would require a vote of Inyo people on projects that equal or exceed $5 million.  This is the second time in Inyo's history that citizens have demanded a vote of the people before supervisors take action.  Appears board members failed to get the message the first time.  Government is not the private bailiwick of elected officials and other bureaucrats.  They need to make efforts to keep everything in the open unless specifically needed to be secret.  The way we hear it, citizens feel a new office center in Bishop was  not properly discussed in public.
Finally, after 36 years of news reporting here, I have decided to slip behind the scenes for awhile.  I will work out of my Bureaucrat Beat Newsroom to provide stories and tidbits to the capable staff at Sierra Wave.  Stay tuned and email me at [email protected]
With that, this is Benett Kessler signing off for Bureaucrat Beat where we await your word on our lives in the Eastern Sierra and beyond.