The Bureaucrat Beat staff has mulled over the State budget situation with somber talk and local factoids. Our conclusion? You're fired, legislators in Sacramento! After we talked to
Inyo's County Administrator and heard the dire predictions, we could only say the state officials who have failed to pass a budget do not deserve to stay on.
CAO Kevin Carunchio said that everyone at the courthouse works on the budget crisis every day. Bottom line – state funds make up more than half of the Inyo budget. "It's going to be a long, rough haul," said Carunchio. He also stated that if the Governor defers payments to counties, "There are no clear options outside of reducing or shutting down programs, massive lay-offs and a cut in payments to families in need."
Inyo County government claims only modest reserves – $3 million against an $80 million budget, all told. Deferred payments from the State could cripple Health and Human Services with a loss of nearly $2 million, according to Carunchio. The worst part, the CAO said, is not knowing what will happen.
They're fired!!!
The Riverside County Supervisors were so outraged that they sued the State to compel payment of billions of dollars to county-run social services, payments the State began to delay. The Riverside officials also took legal steps to relieve their county of the responsibility to provide state-mandated services not funded by the State. It's ugly.
Equally unattractive, the fact that whistle blower Harry Markopolos provided information to the Securities and Exchange Commission ten years ago about fallen money manager Bernard Madoff and his Ponzi scheme of finances. This was before all of the elderly couples losts their life savings. Regulators ignored the information and Madoff apparently continued the scam.
Meanwhile, Republicans in Congress have continued to resist more regulation of the financial industry. We in the Bureaucrat Beat newsroom have given it a lot of thought over many morning cups of coffee while alternately banging on our manual typewriters for inspiration. We believe, according to every bit of information we have read, that a total free-for-all lack of controls on financial dealings led to our economic collapse. Greed ruled in untold decisions and put billions in a few pockets while most people lost more and more money and buying power. Come on. Anyway you cut it, this does not work for a healthy society.
What do you do with greed if not to regulate it?? We weren't born yesterday, and we all know that the Good Old Boys Club in D.C. raked in the bucks for themselves and their friends. Come on, guys, who do you think you're kidding? Remember Halliburton? The no-bid contracts for jillions of dollars to do who knows what in Iraq!?!?! $4 per gallon gasoline and Exxon with the highest profit ever, something like $43 billion of our dollars!! You are all busted.
Okay. Back home. Sources outside of Mammoth Lakes told us that Steve Searles would testify before the Mono County Grand Jury today. We hear the Jury has already heard from others on some topic or another -probably bears and the many bizarre twists and turns around that issue. We know that Mammoth Police Chief Randy Schienle was asked to provide documents. The Town Manager said the Town would supply paperwork to the Grand Jury.
Hey, maybe the Bishop City Council could teach State legislators how to do things right. The Council thought about what they would do if a tie vote developed in the March Council election. They voted to "flip a coin" in the case of a tie.
The goofballs in Sacramento should consider a coin toss. We're begging you guys, flip the coin and pass a budget, already!!!
How about those Inyo Supervisors?! Government, they said, has no business helping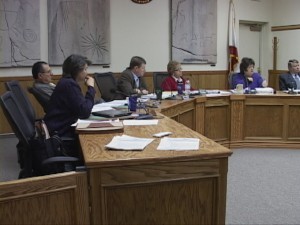 people to get places to live. The "Compassion R Us" Board said no to Mammoth Housing's offer to help file for and manage a grant to help first time homebuyers. It's nice to make definitive statements like "government has no business in real estate." when you have a home of your own.
We must end with our beloved editor's words: Comfort the afflicted and afflict the comfortable.
With that, this is Benett Kessler signing off for Bureaucrat Beat where we await your word on our lives in the Eastern Sierra and beyond.