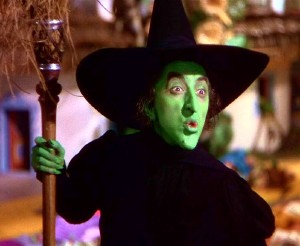 We can't resist the Friday the 13th piece about today. We feel strongly that it's not unlucky. In fact, the only comment we can really make is witch hats are on sale at Kmart. The Wicked Witch of the West will likely show up – she's a bargain hunter – so maybe skip that shopping trip today.
Here's something else you might want to skip – new cars that claim they can automatically parallel park. You take your hands off the wheel and push a button. Trouble is, we hear someone did that in Bishop and crashed into a parked car. Computers still have a lot to learn.
Bob Todd has very little more to learn about the Grateful Dead. To say he's a fan is to insult the depth of his devotion to the musicians. So, when we heard about this job we instantly thought of Bob. UC Santa Cruz wants to hire a Grateful Dead archivist. Who woulda thought? They must have one heck of a collection of Dead stuff.
Now, here's some dead stuff worth somewhere between $5 million and $8 million. A 66-million-year-old Tyrannosaurus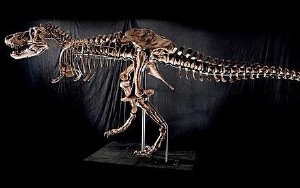 Rex skeleton that failed to sell at a Las Vegas auction in October has finally sold. The auction house declined to reveal the name of the new owner of a whole lotta bones. They did say the buyer will arrange to put T. Rex on display in some American Museum.
In a time when many go hungry, without jobs and even homes, these auction purchases rank somewhere close to obscene. An Andy Warhol silk-screen painting of 200 one dollar bills sold for $43.8 million at Sotheby's contemporary art auction in New York. No accounting for taste.
Anyone have a taste for demanding more open government in the Eastern Sierra? The Mammoth Town Council already got a dose of scolding for holding secret meetings of the Wildlife Subcommittee for many months. Now, questions circulate about Inyo's Klondike Lake Subcommittee. In fact, attorney Peter Tracy who advises both Mammoth and Bishop councils, advised against appointment of two Bishop councilmen as long as Inyo's meetings are held in secret.
We're not sure about the law, but what about the public process? We were struck by Bishop Administrator Rick Pucci's comment. He said the Bishop City Council doesn't conduct closed subcommittee meetings. Good for them. Most everything except lawsuits and personnel matters should submit to open, public debate. That's how things work well – in the light of day.
On that note, Bishop residents have complained that the study sessions of the Bishop City Council seem designed to hide things from the public. They are open meetings with agendas, held usually at 4pm before Monday night Council meetings. The study session agendas have not been included on the City's website. When asked, Administrator Pucci agreed wholeheartedly to make sure these agendas are included with the regular agenda from now on.
On the lighter side, how about some live entertainment and Thai food? The Thai Thai Restaurant at Bishop Airport has arranged for mellow dinner music Saturday nights. This Saturday, celtic music will accompany the Thai menu – a major favorite of locals and pilots who like to drop in and eat. Owner Weng-Cheong Lim says you can even experience a Thai breakfast on the week-ends if you want a change of pace from bacon and eggs. But, he has those, too.
Eating out is a fun diversion. Any local restaurant that feels they have something special to offer, give me a call and I'll pass the word. We in the Bureaucrat Beat newsroom want local eateries to fare well during the recession.
A convivial night out counteracts the drudgery of bureaucracy.
Get ready for more bureaucratic pain. The Los Angeles Times reports that the Governor has warned of more budget cuts. Schwarzenegger told the Fresno Bee's editorial board this week that the current fiscal year's budget remains $5 billion to $7 billion in the red on top of the $7.4 billion deficit projected by his aides for the next fiscal year. The Governator said no program would be immune from the budget knife. How about he starts by abolishing all useless commissions and boards and percs for legislators.
One of our website commenters suggested that DWP get on with desalination of ocean water instead of leaning on more Owens Valley water, already drained south. DWP Commissioner Forescee Hogan-Rowles said she wanted to strike a "balance" between Owens Valley environmental safety and LA water needs. What she seems to say is our environment will have to take still more hits to satisfy LA water customers. Does she know that our area has lost literally thousands of trees as a result of water diversions and groundwater pumping? Probably not.
Meanwhile, news reports confirmed that southern California's first major seawater desalination plant project moved ahead in the San Diego area with major public subsidies. This project would produce water to supply 100,000 homes. Good start. Let's face it, most of southern California started out as desert land until they took water from somebody else. High time for self-sufficiency.
With that, this is Benett Kessler signing off for Bureaucrat Beat where we await your word on our lives in the Eastern Sierra and beyond.