A measure of a society, you might say, depends on how we treat people confined to wheel chairs. Do we think of them first when it comes to government budget cuts? Do we consider their lives in our neighborhoods? Or do we think first of the fit and the rich?
Last week's meeting of the Transit Authority revealed a number of disabled and elderly people who have no mobility or real freedom in their lives without the Dial A Ride buses. We in the Bureaucrat Beat newsroom had to admit that we have failed, until last week, to realize the depth of need for some of our neighbors. We all agreed that we regret this oversight but will now do better.
So, we will urge the Eastern Sierra Transit Board members, who are our elected officials, to do what the disenfranchised asked – hold their meeting in Bishop at the point of service and raise bus fares before you cut service. Three of the Board members were sitting in the back of the room last week, so they know the real scoop – the disabled, the nearly blind, the very old really need service. It's not a bureaucratic indulgence.
From the very poor to the teddibly, teddibly rich. Two of the Big Guys now hurt our towns. CNL Real Estate Trust that owns the Village at Mammoth knows in their private moments that they are charging too much rent for the businesses there. We are too unsophisticated here in our modest and dimly lit newsroom to understand their motivations, but the end result could mean a Ghost Village for Mammoth. That's not good. CNL has failed to be a good neighbor.
Rents are too high and parking too slim for good business. Therein lies another issue for our town. When Intrawest built the Village, our own officials failed to secure enough parking to make the Village healthy. We delved into our archives to bring back a letter written by Mammoth's Don McPherson to remind us of that foible. More than two years ago, McPherson wrote, in part:
John Eastman was quoted as saying regarding parking at North Village, "The North Village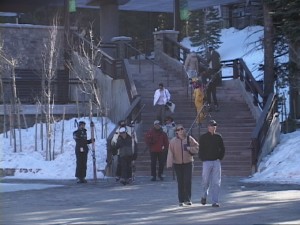 today doesn't have adequate parking. That is intentional. We didn't want to make it too convenient. We didn't want a mass exodus to the Village [at the expense of existing town merchants]." Those comments have rendered me, and a great many of our town citizenry utterly speechless! ….And I mean at a complete loss for words. Enough is enough. Just when does this community stand up and say so. I guess that at least in my case the time is now. So therefore, Tag I'm it!! Councilman Eastman, your comments suggest duplicity from day one regarding our new village. The word disingenuous comes to mind as well. To think that a member of our Town Council would not afford every opportunity for new merchants in the North Village to succeed, most of them with their hearts beating rapidly anyway regarding a new venture, is unconscionable. Councilman Eastman is not alone regarding this way of thinking however. There are five members that make up our Town Council. Councilman Eastman was further heard to say yesterday, that in his opinion the parking problems at North Village during an average weekday did not present any real problems. Unbelievable! Did Councilman Eastman just arrive in this town from the planet Mongo? The parking problems are real and they manifest themselves on a daily basis. I live three blocks from the Village and visit there daily. I have yet to see John Eastman there — ever. A coincidence? Maybe so and maybe not…..
The Town Council has, it seems, thrown an automatic "STRIKE ONE" against any and all Village merchants as they strive to succeed in a completely unknown environment. All of those merchants would tell you that the lack of parking is, and always will be (at least until it is fixed), the single greatest harbinger of defeat for them all. If I was a merchant in the North Village, I would be circling my wagons right about now! I have many friends that are merchants in locations other than the North Village. They have thought long and hard about moving their business there. I can well imagine that they are thinking a lot longer and harder about it now! Who could blame them?
Sincerely,
Don McPherson
Mammoth Lakes
That letter was written by Don McPherson in February of 2006. What has happened to correct the problem? Not much. Town officials say they and MMSA have tried to work out a parking structure but CNL has failed to participate. A Ghost Village helps no one.
In Bishop, we have the parties involved in the Cottonwood Plaza – Maudsley and Caldwell. Their mixed messages and short leases with high rent forced thoughtful business people to leave. The ones left do business with trepidation.
This is not good, neighborly practice. Mr. Caldwell and company need to consider the people in their shopping center and do right by them and the town. They will likely prosper thereby.
Ignorant quote of the day? President Bush stated last July 10th, "I mean, people have access to health care in America. After all, you just go to an emergency room." Wow. Does he do that?
It's all about being a good neighbor.
With that, this is Benett Kessler signing off for bureaucrat Beat where we await your word on our lives in the Eastern Sierra and beyond.