What will the LADWP do now? The Los Angeles Times has memorialized the huge number and variety of birds that use the once dry Owens Lake as a critical stop in their migratory routes. Reporter Louis Sahagun personally joined the bird count crews last Saturday as they eyed the winged amazement. Sahagun wrote that some 50,000 birds rely on the Owens Lake and that the Audubon Society of California has designated Owens Lake as one of the 17 most important bird areas in the state and a globally important wetlands in the making.
Wow. What Sahagun only hinted at was that LADWP has launched talks to cut back water use at the lake. The City has a big time lack of water. DWP General Manager David Nahai had told me that the Department would meet its environmental obligations to Inyo and Mono. However, he then said that DWP may not want to use pristine water to keep dust down at the Owens Dry Lake. He said conversations are ongoing with the Air Pollution Control District. Now, this is a sticky wicket. Create a world class wetland and then dry it up? Ouch.
Let's trip off to a completely different world – music! Couple of notes in this realm. Kris Kristofferson now works on a new album. Interesting. In June, the Queen of Soul, Aretha Franklin, heads back to the Hollywood Bowl after 35 years. Which reminds us of a former Sierra Wave disc jockey, 10 years back, who dedicated Aretha's song, Chain of Fools, to the Inyo Board of Supervisors. Funny moments in radio.
We saved the biggest news for last. Bob Dylan, nicknamed Zimbo as a child since he was born Bob Zimmerman, has cranked out a new album, "Together Through Life". Columbia Records will release the new CD next Monday. Stay tuned.
Asked in a recent interview if he's a mystical person, Dylan said, "Absolutely." Why? "I think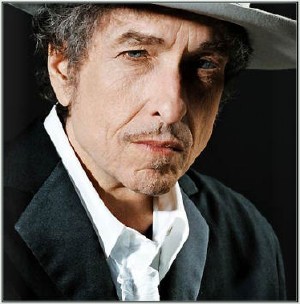 it's the land," he said. "The streams, the forests, the vast emptiness. The land created me. I'm wild and lonesome. Even as I travel the cities, I'm more at home in the vacant lots. But I have a love for humankind, a love of truth, and a love of justice." What a poet.
Talk about anti-art. How about those Justice Department memos that spell out in chilling detail how to torture people. We in the Bureaucrat Beat newsroom wanted to make it clear that the Geneva Convention to which all countries ascribe strictly prohibits torture and humiliation of those captured in any kind of conflict. Plus, our own military officials say torture doesn't work. Come on, Mr. President, find the nerve to crack down on the guilty parties.
These words may not be poetry, but they're darned right on. "The world is run by people who show up." Alan Pietrasanta of Sierra Business Council stated the plain truth when interviewed about public meetings on state plans for the Eastern Sierra. His simple statement represents a profound truth about power in a democracy. So, if you're tempted to poke fun at the few who sit through hours of public mind benders, remember they may be the ones who run the world.
Sometimes elected leaders need to stand up for those who can't show up, so to speak. Take the news from Jennifer Duncan of the Inyo Mono Senior Legal program that Supplemental Security Income recipients, that's SSI, will lose some of their monthly benefits on May 1 as part of the Governor's effort to balance the state budget. SSI recipients are receiving letters that tell them their SSI monthly checks will be decreased back to 2008 levels. This is $37 for an individual and $55 for an eligible couple. That hurts, bad.
What hurts more – Duncan says the California state budget provides for a further reduction of SSI on July 1 in the amount of $20 for an individual and $35 for couples. Nice. So, let's get this straight – making ends meet has become a myth, so state government will make it harder for those who need help. We don't like what this says about our state.
Lots of folks didnt like what an Italian seismologist had to say before the major quake in that country. Seems Giampaolo Giuliani warned of a quake weeks before the magnitude 6.2 struck a region near Rome killing nearly 100 people. The scientist had recorded radon gas emissions that led him to issue the warning. Italians thought he was crying wolf. Now theyre eating crow.
With that, this is Benett Kessler signing off for Bureaucrat Beat where we await your word on our lives in the Eastern Sierra and beyond.