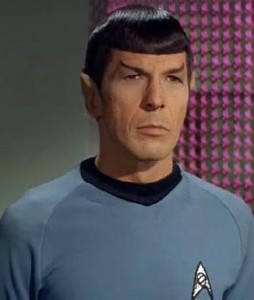 So, the Inyo judges' meetings on the site of a new court building are over. Will Judge Brian Lamb take the peoples' views to heart? One local man has suggested that may be out of the question. He said this: "Watching and seeing the differences between Judge Stout and Judge Lamb is like watching a scene from Star Trek with Captain Kirk and Mr. Spock:
Captain Kirk: These people are really upset. We need to figure out what their problem is and how we can calm them down!
Mr. Spock: (taken aback) That's not very logical, Captain. Emotions and feeling should not enter into our decision. After all, A + B = Bishop, ummm, I mean to say "C", ummm, because you know, I haven't made up my mind. I am still inputting data."
The lack of response to public sentiment has led some to talk about a re-call of Judge Lamb. Feelings can play a key role in political life.
On another note, turns out scientists have discovered that Tylenol can quell the pain of a headache and a heartache! Wow. Who knew? Maybe advil will work, too. The recent studies found that the same bodily systems react to the experience of rejection and to physical pain. These researchers used Tylenol to test participants and found the over the counter pain killer to reduce physical pain and emotional pain. We in the Bureaucrat Beat Newsroom have a feeling that lots of Inyo citizens will need a hefty supply of Tylenol very soon.
Nice to hear that the California Public Retirement System, CalPERS, has taken steps to prevent another salary scandal like the one in Bell, CA. The agency will actively review payroll data submitted from cities and counties. If they look too high, a report will go to higher-ups. Rob Feckner, President of the CalPERS Board, is quoted as saying, "The extraordinarily high salaries paid to Bell city officials have led to widespread concern about the compensation and benefits paid to certain public employees. We are actively engaged in ensuring that these issues are addressed."
Now, back to Mammoth Lakes. Maybe one day a Department of Fish and Game employee here will react the way the top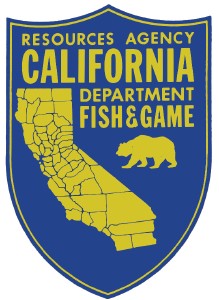 DFG man in charge of bears statewide did. He told us he believes behavior modification, like Steve Searles uses, can be valuable. He at least seemed to have an open mind. The DFG bureaucrats here seem to have disdain for Searles and the people of Mammoth. They have expressed no desire to find out how locals want wildlife management to go in their communities and how DFG might work with them. State bureaucrats frequently assume the attitude that they represent a higher authority and can push us around anyway they want. That's not how we see things working in a democracy.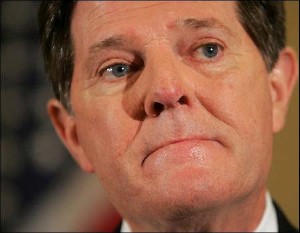 Here's another crime against democracy. The Justice Department will not bring charges against former House majority leader, Tom DeLay. Reports suggest that DeLay will not go down for crimes because many in Congress are doing nearly the same things he did – paying relatives enormous sums from their political action committees, taking expensive junkets paid for by interests that then get favorable votes in Congress. In Texas, DeLay does still face unrelated charges of money laundering and conspiracy. One good thing – as a result of DeLay and others, Democratic House leaders have cut down on gift-taking and imposed new rules for lobbyist fund-raising. They also created the Office of Congressional Ethics. We'll see how long that office remains effective.
Side bar from the newsroom – Remember we mentioned the International Space Station crew had a problem with a coolant pump. We compared their space walk repairs to our newsroom cooler motor problem. Well, after three weeks, the Space Station can breathe easy again. Actually the coolers were supposed to keep electronics from overheating.
Leigh Gaasch of Mammoth Lakes gave us a letter called "Keep an optimistic mind". We in the Bureaucrat Beat Newsroom prefer dark, grumbling moods, although we do maintain a positive spirit. As a result, we can't bear to read the whole letter – it's really too Pollyanna to bear. She quotes the Optimist Creed. Google it. We will quote the last line: "Be too large for worry, too noble for anger, too strong for fear, and too happy to permit the presence of trouble." Thanks, Leigh. That's the best advice we've heard in many days.
With that, this is Benett Kessler signing off for Bureaucrat Beat where we await your word on our lives in the Eastern Sierra and beyond.