What a shame that people allow themselves to be manipulated and roused up over half-truths or outright lies. While millions of Americans suffer from no health insurance and no health care, the insurance and drug companies pay lobbyists to fire up ordinary citizens' fears to defeat change.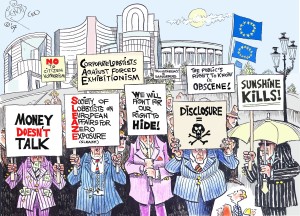 But, hey, we're all human. We're scared. We hate change, and if things work for us, well, then leave it all alone. Tragically, things may not continue to work for us. If you have insurance, wait until you get sick and the company dumps you or refuses to cover your procedure. Wait until they continue to jack up your premiums, wait until you lose your job and have no insurance, wait until the medical costs you may incur drive you into bankruptcy as they have thousands. Then you may want change, but it will be too late.
We in the Bureaucrat Beat newsroom have only one little, humble piece of advice. If you find yourself hyperventilating and screaming, you're in trouble. Take several deep breaths, calm down and try to think for yourself.
And, now, for a whistleblower.
Wendell Potter was the head of communications for the mega health insurance company, CIGNA. He left his job, no longer able to stand up for an industry that hurts people. Potter has now gone public with what he saw during his career.
Potter told reporter Amy Goodman on the website www.truth.org that the game plan of the health insurance industry is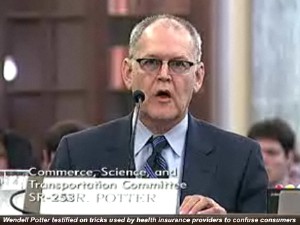 based on scare tactics. He said they are fighting a public insurance option and health care reform. Potter said they will work with the business community, conservative pundits, editorial writers – to "try to scare people into thinking that embracing a public health insurance option would lead us down the slippery slope toward socialism." Potter said he began to see how the insurance moguls use scare tactics to keep their profits rolling in.
Potter told Goodman that the insurance companies use "dumping the sick." That means when people have an accident or a critical illness, the insurance companies try to find discrepancies in their original applications so they can claim a pre-existing condition and dump them from coverage. "That's one way they dump people," said Potter, "who need insurance the most."
Something to consider as you form opinions on health care reform.
Very close to home – isn't there some way the Town of Mammoth can get the police a new facility? Something short of a large, new station. Even leased but appropriate quarters are in order.
Have you ever gone to the police department? The officers and everyone else have to live in terribly cramped space. The low morale, noted by the Mono Grand Jury, would snap up a bit with better working conditions. Does anyone care? Hello?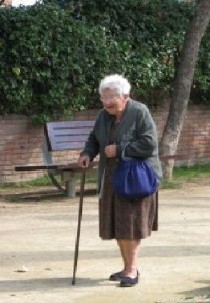 County officials do care about IMAAA – Inyo-Mono Area Agency on Aging. When IMAAA hit hard times with money, administrators, and county differences over levels of service, the quandary over administration of IMAAA led to a new path. Inyo County asked its Health and Human Services department to take over.
It's been no easy task with funding cuts and difficulties filling jobs. Health Director Jean Turner said that she and her staff are working on a cost/ usage analysis of the meal sites to make recommendations at the end of the year. Meanwhile, Turner and others are at work to recruit workers.
Turner knows there are staffing issues. She's working on a plan that will help cover all needs.
Meanwhile, there's worse news. The Governor vetoed funding for the Linkages program and In-Home Supportive Services. Both help lower income seniors and others with essential services to keep them in their homes. Grocery shopping, trips to doctors, in-home repairs.
Health and Human Services will ask local churches, civic clubs and neighbors to try to fill in. They're working on a list of clients and their needs that government will no longer fill. Stay tuned.
With that, this is Benett Kessler signing off for Bureaucrat Beat where we await your word on our lives in the Eastern Sierra and beyond.